Meneve Dunham Award for Excellence in Teaching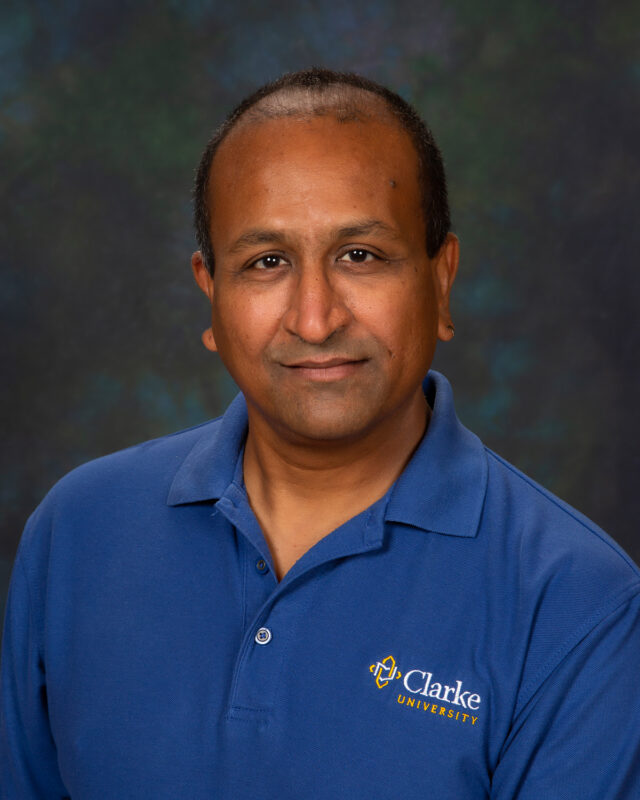 The Meneve Dunham Award for Excellence in Teaching is awarded annually to a full-time faculty member who has completed three years of service at Clarke University and who embodies excellence in teaching.
This year's Clarke University Meneve Dunham Award for Excellence in Teaching was presented to:
Sunil Malapati, Ph.D.
Professor of Chemistry
A current student wrote about this year's recipient:
He has highlighted creativity in all the assignments and projects he gives us. Each day comes with the creation of new culinary activities using cooking, baking, fermentation, filtration, and more. It is always exciting to walk into the classroom to see what he will have us creating or doing that day. He values our input as to what to make with each of the new processes we learn as well.
A former student wrote:
His assessments were particularly unique in that he was not concerned about the answer but how his students approached the answer. I am now in my fourth year as a chemistry graduate student with plans of obtaining my Ph.D. in the near future. Because of him, I have been able to navigate the scientific world of research with confidence, appreciation, and determination. He knew my strengths, he pushed me to pursue avenues that elevated these strengths, and I am now all the more successful because of it.
A colleague wrote:
His contributions to Clarke and his students are many and substantial. His creativity and willingness to bring that creativity to the students often results in unique and impactful assignments.
Remembering Meneve Dunham
Previous Recipients
The Entire Clarke University Faculty, 2021
Jennifer Mai, PT, DPT, Ph.D., MHS, NCS, Professor of Physical Therapy, 2020
Ann Weltin, DNP, FNP-BC, CNM, Associate Professor of Nursing, Director of Graduate Nursing Programs, 2019
Jessica Teckemeyer, MFA, Art, 2018
Evelyn Nadeau, Ph.D., Spanish, 2017
Ann Adkins, Ed.D., Education, 2016
Tim Boffeli, Ph.D., Psychology, 2015
Joseph Klinebriel, MFA, Drama, 2014
Andrea Bixler, Ph.D., Biology, 2013
Karen Glover, Ph.D., Chemistry, 2012
Paula Schmidt, Ed.D., Education, 2011
Michelle Slover, Ph.D., Biology, 2010
*For a complete listing of recipient names you may contact Academic Affairs.