Meneve Dunham Award for Excellence in Teaching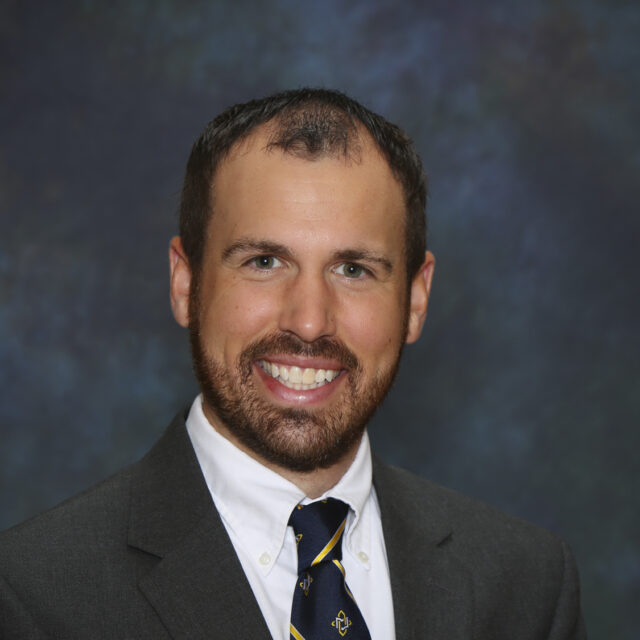 The Meneve Dunham Award for Excellence in Teaching is awarded annually to a full-time faculty member who has completed three years of service at Clarke University and who embodies excellence in teaching.
This year's Clarke University Meneve Dunham Award for Excellence in Teaching was presented to:
Tony Breitbach Ph.D.
Professor of Chemistry
A current student wrote about this year's recipient:
During and after each lecture, he would make changes to his lecture notes to improve the lecture for next year. He was constantly mindful of the classroom interactions and non-verbal cues to better understand the level of comprehension from the students so he could adjust his lectures accordingly.
A former student wrote:
He understood that college was not just about taking courses to get a degree and wanted his students to take every opportunity they could to maximize their growth. Because of him pushing me to get in the lab and do various research projects, I was able to get a full-time position in the pharmaceutical industry within a year of graduating, something that not many people have the opportunity to do.
A colleague wrote:
This individual is conscientious, thoughtful, intentional, organized and meticulous. He is a superb teacher and a great asset to the department, the program and the University.
Remembering Meneve Dunham
Previous Recipients
Sunil Malapati, Ph.D., Professor of Chemistry, 2022
The Entire Clarke University Faculty, 2021
Jennifer Mai, PT, DPT, Ph.D., MHS, NCS, Professor of Physical Therapy, 2020
Ann Weltin, DNP, FNP-BC, CNM, Associate Professor of Nursing, Director of Graduate Nursing Programs, 2019
Jessica Teckemeyer, MFA, Art, 2018
Evelyn Nadeau, Ph.D., Spanish, 2017
Ann Adkins, Ed.D., Education, 2016
Tim Boffeli, Ph.D., Psychology, 2015
Joseph Klinebriel, MFA, Drama, 2014
Andrea Bixler, Ph.D., Biology, 2013
Karen Glover, Ph.D., Chemistry, 2012
Paula Schmidt, Ed.D., Education, 2011
Michelle Slover, Ph.D., Biology, 2010
*For a complete listing of recipient names you may contact Academic Affairs.