Clarke's Alumni Office is pleased to be able to host a variety of virtual events and experience for alumni near and far! Please visit our In Case You Missed It events page to access some of our virtual event recordings.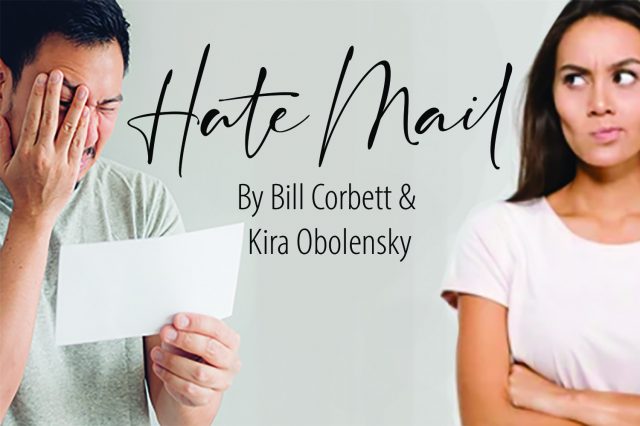 The Bell Tower Theater Presents:
Hate Mail a comedy by Bill Corbett and Kira Obolensky
Saturday, August 28 at 2:00pm
Special group rate for Clarke Alumni – $20 per ticket
The Bell Tower Theater
2728 Asbury Road
Dubuque, IA 52002
When Preston writes a furious letter to a store demanding a refund for a broken snow globe, he gets assistant manager Dahlia fired—and that kicks off an epic (mail) battle between the two. Whether Preston and Dahlia are joining cults, having breakdowns, shipping each other deceased lizards or falling in love, Hate Mail is full of surprises at every turn.
The Bell Tower Theater is owned and operated by Sue Riedel '68.
Reserve tickets by calling the Bell Tower box office at 563-588-3377. Mention Clarke University for discounted rate.
Campus Ministry Activities
Sunday Mass
Join us on Sundays at 5 p.m. CT for our campus Mass in the beautiful Sacred Heart Chapel. Mass is live-streamed on the Campus Ministry Facebook page. Note: The final campus mass of the school year will be on Sunday, May 9.
Holy Hour of Prayer and Adoration
Join Clarke Campus Ministry for a Holy Hour of Prayer from 8-9 p.m. CT every Monday. The Holy Hour of Prayer is streamed live on the Campus Ministry Facebook page. Note: The final campus Holy Hour of Prayer will take place on Monday, May 3.
Athletic Events
Join us online to watch our fall athletic teams compete in the Heart of America Conference.
Visit clarkepride.com to view our upcoming schedule and watch the live-stream broadcasts.