Pathways to Clarke from NICC
Clarke University (Clarke) and Northeast Iowa Community College (NICC) have secured a partnership that provides students with a streamlined pathway to a four-year degree while saving money and helping build the local workforce. At Clarke, NICC degree-holding students can earn a Bachelor of Arts (BA), Bachelor of Science (BS), Bachelor of Science in Nursing (BSN), or Bachelor of Social Work (BSW) from Clarke University.
Apply Now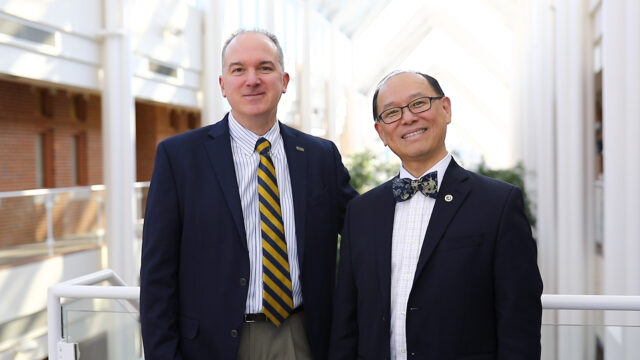 This initiative consists of two main pathways:
1. Junior Status
This path is designed for NICC students to complete their Associate of Arts (AA) or Associate of Science (AS) degree at NICC, with the junior and senior year of the bachelor's degree completed through Clarke. Transferring students will be awarded full credit for their AA or AS degree and be able to graduate from Clarke in two years through well-planned paths and majors. This is a path taken by students who perhaps need a bit more financial assistance or to strengthen their academic standing. This path is a cost-effective option designed if you want to start at a community college and seamlessly transfer to a bachelor's degree program.
Explore available AA/AS transfer degrees:
2. Bridge to Success

The Bridge to Success Program offers dual admission for students who can benefit academically from a year of community college courses while starting their four year college experience at Clarke University. Students in the Bridge program receive full access to services, student life, and academic activities offered by both institutions and have the option to live on the Clarke campus. Students take a mix of courses from Northeast Iowa Community College (NICC) and Clarke on Clarke's campus while benefiting from NICC's flat per credit tuition rate. Are you ready to cross the Bridge? Contact Julie Cirks at julie.cirks@clarke.edu to learn more. 
All the support you will need
Academics
As an NICC transfer student, you come to Clarke with a lot of college experience under your belt. We have plans to help you transition smoothly into Clarke's academic life. Advising begins before you arrive on campus. An admissions counselor will contact you to make your arrangements, help with class selection, and answer any questions you may have. Clarke is renowned for its close community and hands-on involvement in the life of students. Your advisors and professors will provide a framework of support to ensure you have every tool you will need to succeed.
Value
A bachelor's degree from Clarke University signifies a level of commitment and work that is impressive to graduate schools and potential employers. When our graduates speak about the Clarke moments that helped shape them, there's always a professor in the story. That's because being a faculty member at Clarke University requires a deep passion for educating, encouraging, and empowering students. Here, your professors will know your name. They will push you to develop your full potential, and then they'll ask for more. And, they'll be right there to congratulate you when you exceed even your own expectations. Often, it's a relationship that lasts a lifetime.
Campus Involvement
Take your involvement beyond the classroom. Clarke offers ways to get involved on campus and the community around you. Studies have proven that students who become involved in activities and organizations stay in school longer, have a higher graduation rate, enjoy a better relationship with faculty and staff, and report a higher level of satisfaction with their college experience. So, try some different things, meet unique people, and have some fun. With many student-run clubs and organizations and countless other activities, there are plenty of ways to get involved.
FAQs NICC Transfer Edition
What are Clarke's admissions requirements?
2.5 cumulative college GPA
Transcripts from all colleges attended
SAT or ACT score if under 24 college credits
What is the cost?
Because this initiative involves two different pathways, cost will vary. Students enrolled at NICC will pay their tuition and fees, and as they transition to a Clarke student, Clarke tuition and fees will apply.
What housing is available to me?
A Clarke housing and meal plan option will be available to those students who are interested.
Do NICC students qualify for Clarke financial aid or scholarships?
NICC students will apply for NICC financial aid, and once they become a Clarke enrolled student, they will apply for Clarke financial aid.
Can NICC students play a sport at Clarke?
Once you become an official Clarke student, you may be involved in athletics.
Can NICC students participate in Clarke extracurriculars?
Yes, Clarke welcomes NICC students.
What is the application deadline for Clarke?
We encourage students to apply as early as possible. Fall 2020 classes begin Monday, August 24.
For more information, please contact admissions@clarke.edu.