CONNECT 2021 First-Year Student Schedule
CONNECT welcomes all new Clarke students to campus! CONNECT orientation, Aug. 19-22, is required for all first-year students.
The first-year students' schedule for CONNECT will be coming soon! All students who have not participated in CU Registration (registering for classes) will do so during the first day of CONNECT.
Fall 2021 Detailed Schedule Coming Soon – Check Out Daily Overviews Below!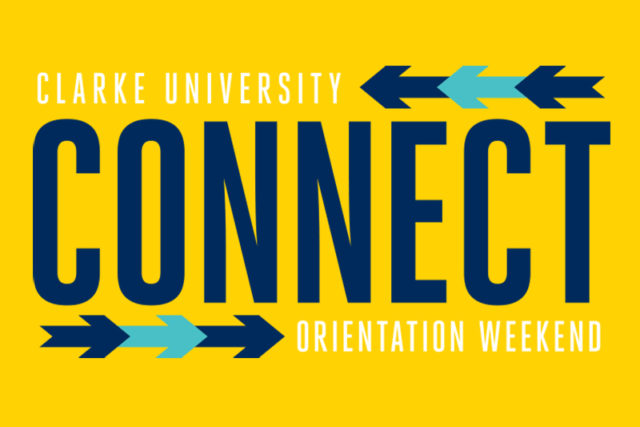 Thursday, August 19 
New students not participating in fall athletics and who are living on campus will be assigned a move-in appointment by Residence Life. Move in appointments will take place throughout the day.
CONNECT programming will begin in early evening. All new students will meet in their small orientation group, led by a team of Tuckpointers (orientation leaders), and have their first meeting over dinner together.
Thursday night's CONNECT programming will include important technology information, residence/commuter life meetings, and a social engagement activity.
Friday, August 20
New students will begin Compass Navigator (CMPS 101) courses on Friday. Sessions will be conducted face-to-face in appropriately spaced facilities and groups.
Students will also have meetings with their chosen major, or open major advisors, to learn more details and program expectations for students.
Additional appropriately physical distanced engagement events will be offered on Friday evening.
Saturday, August 21
New students will continue Compass Navigator course sessions on Saturday morning, followed by small group meeting opportunities in the afternoon.
Saturday night programming will include a performance event focused on addressing important topics and frank discussions with peers.
Sunday, August 22
The final day of CONNECT orientation will include engaging activities that help teach the understanding of the Clarke core values: freedom, charity, education, and justice.