Organizations & Activities
New Stuff to Do!
College extends far beyond your classrooms. That's why we offer ways to get involved on campus and the community around you. Studies have proven that students who become involved in activities and organizations stay in school longer, have a higher graduation rate, enjoy a better relationship with faculty and staff, and report a higher level of satisfaction with their college experience. So try some different things, meet unique people, and have some fun. Go forth and explore, adventurer.
Take a Look for Yourself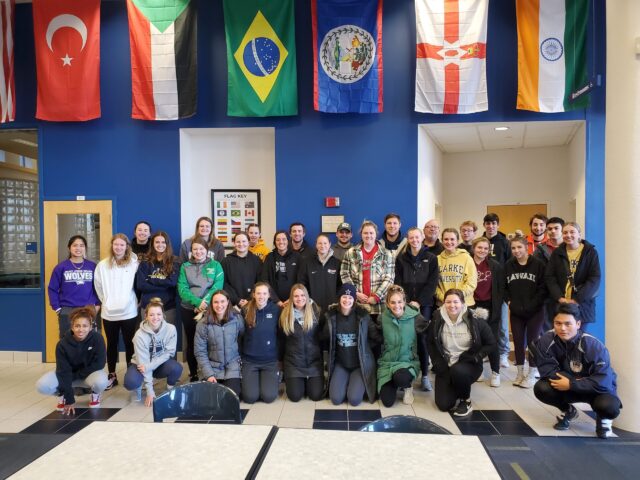 Groups on Campus
The challenge is on at Clarke University. With many student-run clubs and organizations and countless other activities, there are plenty of ways to get involved. Go on, explore. Take the involvement challenge.
CU Lead
Clarke's leadership development program, CU LEAD, approaches leadership as a purposeful, collaborative, values-based process that results in positive social change. Develop invaluable leadership skills that will make you both career and life ready.
Arts at Clarke
Clarke University prides itself on a diverse selection of art, music, drama, and presentations to engage the campus and community. Our stages are lit with everything from historic teachings and educational developments to current performance artists and eclectic shows. Follow our calendar of exciting events.
The Clarke Compass
Through coursework, internships, service, travel, leadership opportunities and more, Compass helps you choose experiences that make the most of your time at Clarke. You'll integrate a diverse set of classes, activities, and services into a skill set that prepares you for your career and life in your community and the world.
This Could Be You!
Join Us