Culturally Inclusive
At Clarke University, we strive to enrich our campus with cultural influence. We also strive to provide an invaluable experience to international students.
We conduct one-on-one and small group International Student Orientation to help transition you into our campus and into Dubuque.
View the International Student Guide for answers to the most frequently asked questions about international study and transitioning to life at Clarke and Dubuque.
International Student Guide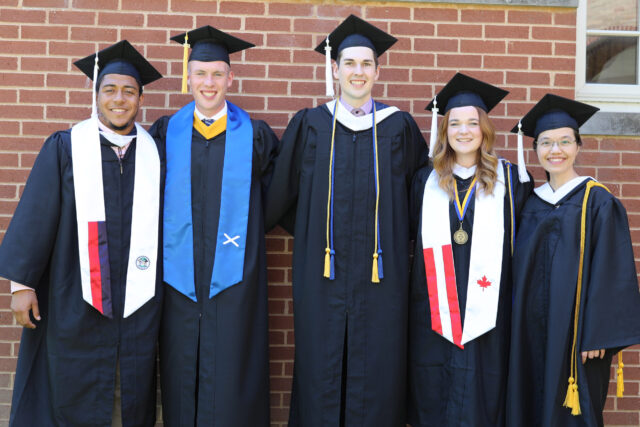 SEVIS
What is SEVIS?
SEVIS (Student and Exchange Visitor Information System) is an internet-based system requiring schools and the U.S. Citizenship and Immigration Services (CIS) to exchange data on the status of international students and their dependents in the U.S. Effective February 15, 2003, Clarke University must electronically transmit immigration, academic and dependent data to the CIS throughout an F-1 student's academic career in the United States. U.S. embassies and consulates will also have access to SEVIS.
What information is required to be reported in SEVIS?
All of the information from your I-20, along with certain information from your passport/visa and I-94, are tracked in SEVIS. In addition, colleges must report the following:
Whether the student has enrolled at the school or failed to enroll.
A change of the student or dependent's legal name or address – both in the U.S. and in your home country.
Any student who graduates, and whether it is prior to the end date listed on the I-20.
Academic or disciplinary actions taken due to criminal conviction.
Whether the student drops below a full course of study, which requires prior authorization from the DSO (Immigration regulations refer to international student advisers as Designated School Officials – DSOs).
Termination date and reason for termination.
Other data generated by standard procedures such as program extensions, school transfers, changes in the level of study, employment authorizations, and reinstatement.
Any student who fails to maintain status or complete his or her program.
How will Clarke help students comply with the immigration laws?
Kate Zanger, your primary DSO, and the student life staff are on campus to help you maintain status and keep your information in SEVIS current and accurate. They can also advise you on SEVIS and compliance with CIS regulations.
Temporary Leave of the United States
Additional Forms
DSO's signature on the back of your I-20
Kate Zanger is your primary Designated School Official. It's a good idea to have a signature that is dated no longer than six months ago.
Valid Passport
Your passport should be valid at least six months beyond the date you plan to re-enter the United States. Some students whose passports are not valid for six months beyond their reentry into the United States may experience difficulties getting back into the United States. If you need to extend your passport, contact your consulate or embassy in the United States or the appropriate authorities in your own country. There are some exceptions to this guideline; consult a DSO for more information.
Valid Visa
Your visa is the stamp placed in your passport at a U.S. embassy or consulate abroad. It should be "valid" for more entries than you have already made (most visas are marked "M" for "Multiple entries," meaning they are valid for an unlimited number of entries), and is valid until a date later than the date you plan to re-enter the United States. Exceptions: People in F status do not need to have a valid visa to re-enter the United States from Canada, Mexico, or the Caribbean islands south of Florida. See a DSO for more information.
Working Off-Campus
There are several choices for international students who are interested in working in the community.
Maintaining F-1 Visa Status
Each of these forms should be printed, completed, and then submitted to the student life office.
Extend Program of Study Form is used to change your I-20 program end date; if you are not graduating by the program end date on your I-20, then you must apply to extend your program before that date.
Less than Full-Time Request Form is for when you have a medical or academic reason to drop below the required number of credits to be considered full-time.
Transfer Out Form if you plan to transfer to another college, you are required to notify a Designated School Official in the Student Life Office before enrolling in the new program.