Diversity on Campus
Our campus thrives on unique voices, roots, and backgrounds. We think differently, feel differently, and work differently from one another. We affirm the value of multicultural understanding and promote and support diversity at Clarke University.
Upcoming Cultural Programs
Learning Latin Lives
Monday, October 8, 2018     7 p.m.     Fabiano Conference Room
Unfamiliar With South American Countries? Ever Wanted To Learn About The Unique Aspects Of Different Cultures? Then join us at this program where we'll dive into the rich and diverse cultures of South America! Students who attend this program will receive Intercultural Engagement credit and "Casual Cultural Conversation" credit under CU LEAD.
Espresso Your Faith: Religious Perspectives on LGBTQIA+ Identity
Thursday, October 25, 2018     7 p.m.     Alumnae Lecture Hall
At this program, students will engage in a fruitful discussion with local members of different faith and religious groups about their stances on LGBTQIA+ identity with regards to its place in their religion and/or faith. Representatives will be prompted questions and there will also be opportunities for students to submit their own questions to ask. Students attending this event should gain a deeper understanding of how LGBTQIA+ experiences intersect with the experiences of faith groups, and how these experiences are affected by different perspectives on gender identity and sexuality. Students attending this event will receive Compass credit for Intercultural Engagement and "Casual Cultural Conversation" credit under CU LEAD.
Colonization Nation
Monday, October 12, 2018     7 p.m.     Rose O'Toole Hall
At this program, students will learn about the process of colonization and how it affects the native inhabitants of colonized lands, along with the resulting effects on these native inhabitants in our current era. We will mostly focus on North American colonization, but will also discuss colonization in other lands, both past and present. Students attending this event will receive Compass credit for Intercultural Engagement and CU LEAD credit for "Casual Cultural Conversation."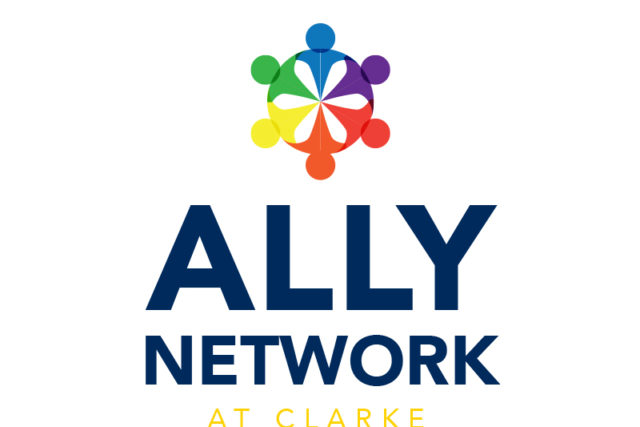 Ally Network
The Ally Network at Clarke promotes and provides safe and inclusive environments for our students, peers, and colleagues of all gender identities, gender expressions, and sexual orientations.  Being part of the Ally Network means to actively support and advocate for our LGBTQ+ community. Those who complete the Ally Network training workshops may choose to display a placard on their office or workspace to visually communicate their commitment.
Contact Triston King for more information about the Ally Network and its training workshops.
Diversity, Equity & Inclusion Committee
The Diversity, Equity & Inclusion Committee is a standing committee that evolved from the Minority Task Force initiated by the president in 1989. The primary function of this committee is to promote inclusiveness by 1) educating the campus community on issues of diversity, and 2) affecting university policies to foster a campus that is open and welcoming to all. Specifically, this committee performs ongoing review of campus climate, supports campus equity advocates, provides faculty and staff development opportunities, and collaborates with other groups to promote an inclusive learning community.
The committee is comprised of administration, faculty, staff, and students. Everyone in our Clarke community is welcome to reach out to the committee. Contact Mary Gitau for more information.
Incident Reporting
We are dedicated to hearing the voices of individuals and investigating concerns. We strive to resolve crime and community issues, especially those of bias or discrimination. You can report an incident anonymously or by name.