Outstanding Achievement Award Winner
Presented for outstanding professional achievement and success.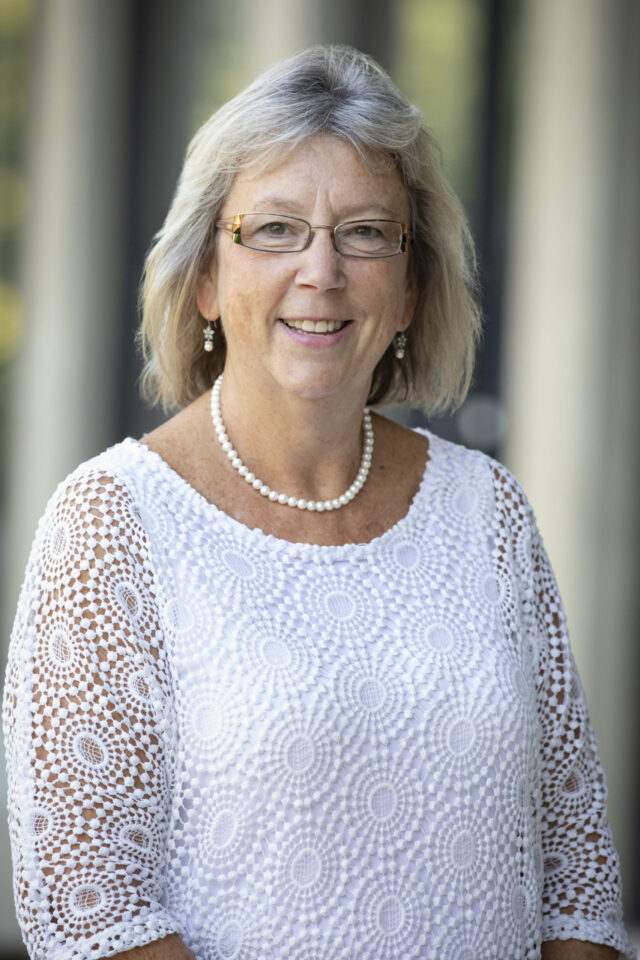 Michaelene "Micki" Ostrosky '80
Michaelene "Micki" Ostrosky '80 is a Grayce Wicall Gauthier Professor of Education and Head of the Department of Special Education at the University of Illinois at Urbana-Champaign (UIUC). Throughout her career, she has been involved in research and dissemination on the inclusion of children with disabilities, social-emotional competence, and challenging behavior. Through her work on the National Center on the Social Emotional Foundations for Early Learning, she was involved in the development of the Pyramid Model for Supporting Social Emotional Competence in Young Children (www.pyramidmodel.org). As a former teacher of young children who were deaf and blind, and adults with severe disabilities, Micki is committed to making research accessible to practitioners and family members through her writing and presentations. She has published more than 100 peer-reviewed articles, book chapters, and books, and she is a frequent speaker at state, national, and international conferences.
"From when I was a little girl, I always wanted to be a teacher, and in particular a special education teacher. I loved 'playing school' with my siblings and babysitting. I was intrigued by students with diverse abilities and was fascinated as I watched teachers and parents find creative ways to make learning both interesting and accessible to struggling learners. At Clarke, I had numerous opportunities to work with outstanding elementary and special education teachers, which helped confirm that this was the right career path for me to take. My friends at Clarke were an excellent support system, especially during the long days of student teaching. Additionally, Clarke was a place where my leadership skills developed as I watched friends assume leadership roles, and I also took on such positions. We were constantly nurtured and supported in stepping outside of our comfort zone," said Micki.
After graduation from Clarke with her BA in Education, Micki spent a year in Japan as part of the Good Shepherd Movement. Father "Mac" frequently recruited Clarke students to teach English for a year in the role of "missionaries." Along with a handful of other 1980 graduates, she went to Japan and had the most wonderful experience, along with about 10 other women from around the US. The group still stays in close contact and gets together every few years. Following that Micki taught special education for several years before deciding to attend graduate school as legislation in special ed was changing and early childhood services were becoming mandated. She has spent almost 30 years at the UIUC engaged in research, teaching, and service focused on young children, ages birth-5, with disabilities.
"My entire career has focused on issues of access and equity. I work hard to help others understand that individuals with disabilities have the same rights and deserve the same access to services, environments, quality of life as other individuals. I am very honored and humbled that my friends nominated me for this award. It means a lot to have been selected for an award from my alma mater."
There have been so many life and career experiences that have been impactful for Micki, but the one that stands out the most was the birth of her son Cameron and watching him grow from a preemie who spent 11 days in the neonatal intensive care unit into a 6'5″ 20-year-old.
Some of her favorite volunteer activities are done with her husband when they help with their son's college baseball team through fundraising, serving lunches, or bringing bagels (lots of them) to 30+ hungry players between games. Micki is also involved in a lot of service and public engagement activities centered around early childhood special education such as providing professional development, serving on state and local committees, and mentoring junior faculty.
Micki is a former editor of Young Exceptional Children (YEC), and the co-editor of several YEC monographs. She co-authored the Making Friends book (2016), which supports the acceptance of individuals with disabilities, and The Project Approach for All Learners (2018). She has mentored more than 30 doctoral students and has been recognized for her professional accomplishments with honors such as UIUC University Scholar, Goldstick Family Scholar, College of Education Senior Scholar, and the Division of Early Childhood of the Council for Exceptional Children's Award for Mentoring.
Additional Awards & Achievements
1995 Award Recipient, The Council of Graduate Students in Education Faculty Award for Excellence in Graduate Teaching, Advising, and Research.
2001 Award Recipient, Illinois Teacher Education Division Excellence in Teaching Award for 2001.
2003 Award Recipient, UIUC College of Education Distinguished Teaching Career Award.
2007 Award Recipient, Merle B. Karnes Award for Service to the Division of Early Childhood of the Council for Exceptional Children.
2008 Award Recipient, Excellence in Graduate Student Mentoring Award, University of Illinois at Urbana-Champaign.
2008-2011 University Scholar, University of Illinois at Urbana-Champaign.
2010-2016 Goldstick Family Scholar, Department of Special Education, University of Illinois at Urbana-Champaign.
2015 College of Education Senior Scholar, University of Illinois at Urbana-Champaign.
2016 Award Recipient, DEC Award for Mentoring, Division of Early Childhood of the Council for Exceptional Children.
2020 College of Education Faculty Award for Public Engagement, University of Illinois at Urbana-Champaign.