Humanitarian Service Award Winner
Presented for exceptional service to humanity through civic, faith-based or educational endeavors.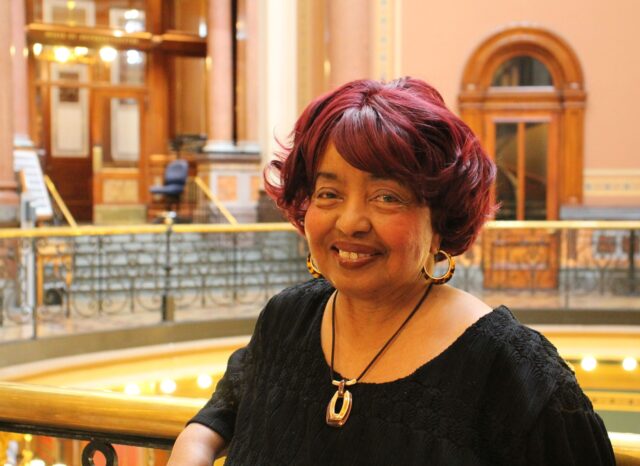 Ruth Ann Gaines '69
Ruth Ann Gaines has demonstrated the BVM core values throughout her career, both in her 51 years as an educator and in her continuing service as an Iowa State Legislator.
After graduating from Clarke in 1969, Ruth Ann earned her Master of Arts in Dramatic Art from University of California at Santa Barbara and returned to her hometown to teach drama at East High School and Des Moines Area Community College and later worked at the Heartland Area Education Agency, Drake University, and Viterbo University. Additionally, she was featured as a radio and television talk show host with WHO channel 13.
With her work connecting her to so many families and organizations, she was inspired to run for office and was elected to the Iowa House in 2010. Over that time, she has led several committees and initiatives, including the Des Moines Human Rights Commission, Very Special Arts Iowa, and Chair of the Black Legislative Caucus in the Iowa Legislature.
In all her roles, Ruth Ann has served with distinction, earning over 50 accolades including the Iowa Teacher of the Year, a finalist for National Teacher of the Year, the Iowa and National Teachers' Halls of Fame, Iowa Womens Hall of Fame, Iowa African American Hall of Fame, the Wallace Foundation Lifelong Learning Hall of Fame, the 2022 Sister for Success Founders Award, the Hoover Foundation's Uncommon Public Service Award, the Iowa Democratic Party's "We the People" Award, and the Progress Iowa's Harkin Award. Additionally, she received the Key to the City of Des Moines from Mayor Preston Daniels in 1983 and East High School recently named their renovated and expanded auditorium in her honor.
"I love people and I work, both in education and politics, to help others fulfill their life's goals of becoming better people and living more successful and productive lives," Ruth Ann said.