Clarke Climbs in U.S. News & World Report Social Mobility Rankings
By Clarke News | September 12, 2022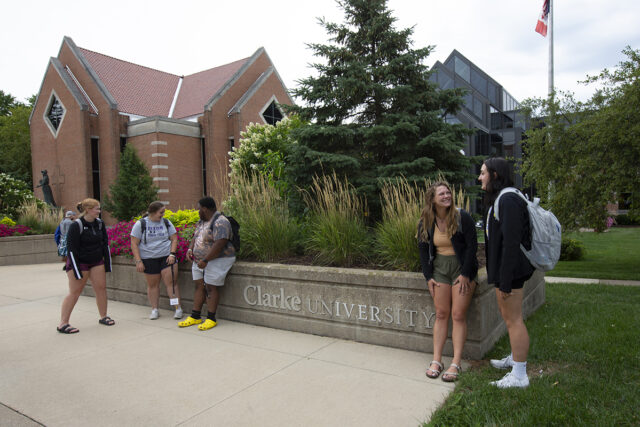 In their 2022 national university rankings, U.S. News & World Report (U.S. News) recognized Clarke as one of the top 50 universities nationwide for supporting the social mobility of its graduates, a significant milestone which reflects Clarke's core values and mission to provide transformative education that is lifelong and life changing.
 "We often talk about how an education is a path to a better future, and these rankings more accurately quantify the difference a Clarke education can make," said Clarke University President Thom D. Chesney. "A high-quality, values-based education like the one Clarke provides can help lift individuals, households, and families out of poverty, and can have long-term impacts on learners' health, happiness, economic gains, and civic engagement." 
Clarke rose in the rankings from 62 in 2021 to 46 in 2022, reflecting the institution's continued commitment to student success and well-being. The U.S. News calculation for the social mobility ranking, "measures how well schools graduated students who received federal Pell Grants. Students receiving these grants typically come from households whose family incomes are less than $50,000 annually, with most money going to students with total family incomes below $20,000."  
Clarke also placed 285 on U.S. News list of Best National Universities. In determining its rankings, U.S. News evaluates more than 1,450 colleges and universities on up to 17 measures of academic quality.  
"For nearly 40 years, the Best Colleges methodology has continuously evolved to reflect changes in the higher education landscape and the interests of prospective students," said Kim Castro, editor and chief content officer at U.S. News. "Guiding that evolution is U.S. News' mission of providing useful data and information to help with one of life's biggest decisions."  
See the official rankings and more at usnews.com.  
About U.S. News & World Report  
U.S. News & World Report is the global leader in quality rankings that empower consumers, business leaders and policy officials to make better, more informed decisions about important issues affecting their lives and their communities. A multifaceted digital media company with Education, Health, Money, Travel, Cars, Real Estate, News and 360 Reviews platforms, U.S. News provides rankings, independent reporting, data journalism, consumer advice and U.S. News Live events. More than 40 million people visit USNews.com each month for research and guidance. Founded in 1933, U.S. News is headquartered in Washington, D.C.