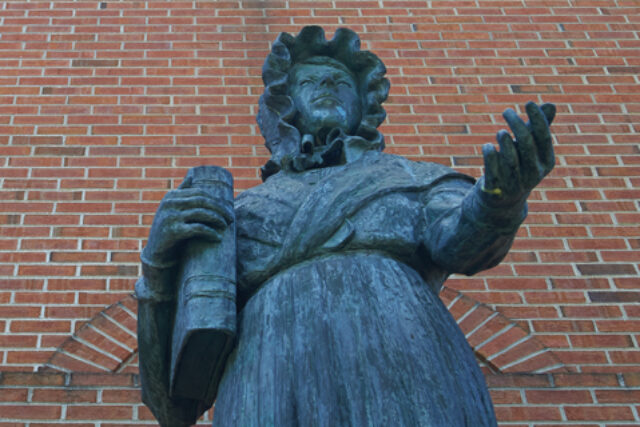 Clarke University has moved into the 21st century with an impressive tradition of excellence in education. Clarke was established in 1843 and is named for an Irish woman, Mary Frances Clarke, who founded a congregation of religious women, the Sisters of Charity of the Blessed Virgin Mary (BVMs). When the community arrived in the river town of Dubuque in 1843, it was pioneer territory. The city has changed radically over the years, while its vibrancy and Mississippi River beauty remain.
Clarke's Milestones
View a timeline of major milestones throughout Clarke's rich history!
VIEW TIMELINE
The antecedent institution of Clarke University, St. Mary's Academy, was established three years before Iowa became a state, in 1843 by BVM sisters. After occupying several locations in its early years, the school was re-named Mount St. Joseph Academy and in 1881 moved permanently to its present location. The academy became Mt. St. Joseph College, a liberal arts institution, in 1901 and was chartered by the State of Iowa in 1910. First accredited by the North Central Association of Colleges and Secondary Schools in 1918, the institution was named Clarke College in 1928 and in 2010 became Clarke University.
In 1884, Mary Frances Clarke wrote to her community of sisters, almost all of whom were teachers: "Let us…keep our schools progressive with the times in which we live…In teaching, we must…endeavor to make [students] think." These directives of over a century ago have continued to inspire a faculty and staff of dedicated women and men to offer a challenging and growth-producing education to all Clarke students.
Academic excellence has persisted as a goal in a variety of new programs and degrees that have been developed over the years. Graduate studies were added in 1964 and evening programs for non-traditional students began in 1968. In 1979, the university became a co-educational institution, admitting both women and men in full-time undergraduate programs.
On May 17, 1984, a devastating fire destroyed four historic campus buildings. Undaunted by the disaster, students hung a banner the next day proclaiming "Clarke Lives!" This spirit sustained the university community through a period of vigorous rebuilding. In October 1986, a dedication was held for a new library, music performance hall, chapel, bookstore, administrative offices and central atrium, which now constitute the core of the campus. In more recent years additional buildings were added to accommodate a growing student population: a recreation and sports complex in 1994; a student apartment building in 1998; the Student Activity Center in 2000; the Marie Miske Center for Science Inquiry in 2013; and the addition of an athletic competition field and practice field in 2018.
Clarke University has remained "progressive with the times" throughout its growth and change. As new programs have developed, Clarke has continued to challenge and support students, who are the heart of the institution, in their intellectual and personal growth. Clarke is known for its long tradition of excellence in education, and its students, faculty and staff work together to maintain and strengthen that heritage.