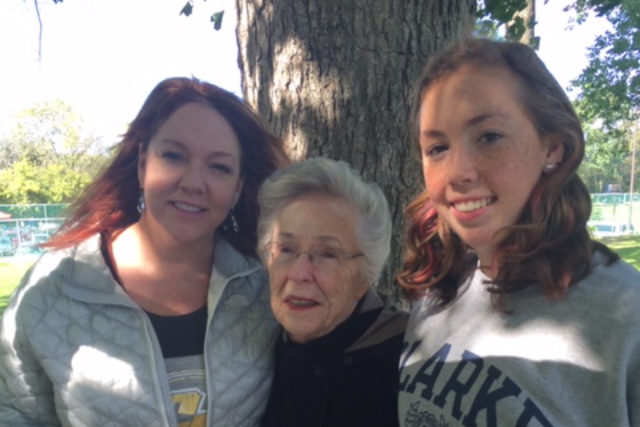 Clarke students need your support.
Our donors know firsthand how Clarke can transform a person's life and their future. The exceptional academic, athletic and extracurricular programs, caring faculty and staff, and close-knit student body are all reasons that create a special bond between our current and future alumni.
Why give?
Equality: Clarke University was founded on the belief that every qualified student should have the resources and support to pursue a Clarke education. Your gift allows us to create opportunities for deserving students from all backgrounds.
Empowerment: Members of the Clarke community live out the core values of education, freedom, charity, and justice. The Clarke Compass is our signature general education program which is rooted in the liberal arts. It recognizes the efforts of the whole person through a rigorous academic experience custom designed by students and their advisors that is centered on coursework and other hands-on experiences inside and outside of the classroom.
Excellence: Donor support funds new and existing programs, equipment, facility upgrades, and research opportunities.
Importance of the Clarke Fund
The Clarke Fund provides institutional momentum for our university. It's the place where every gift makes a difference, and it is the primary way for our alumni, parents, and friends to provide unrestricted and immediate support for Clarke.
What does the Clarke Fund do?
The Clarke Fund and its immediate-use dollars enable Clarke to support new and returning students by ensuring financial assistance and keeping tuition as low as possible.
This support helps our students continue their education with the necessary financial resources and support to ensure their success while also providing a safe and caring learning community.
Your gift to the Clarke Fund allows us the flexibility to immediately address the university's most pressing needs as they arise.
How can you contribute to the Clarke Fund?
All gifts to the Clarke Fund make a difference in the lives of our students and campus community.  Make a gift online today and you can maximize your impact through a matching gift.  Click here to see if your employer is eligible to double your contribution and make twice the impact for the Clarke community.
For questions about the Clarke Fund, please email development@clarke.edu or call 563-588-6405.