An International Commitment to the Common Good
By Clarke News | August 11, 2022
Mary Gitau, Ph.D., Associate Professor of Social Work at Clarke University, strives not only to showcase servant leadership in the classroom, but in all areas of her life. This summer, the two-time Carnegie African Diaspora Fellow shared some of that knowledge and passion as a Keynote Speaker at the Inaugural International Social Work Conference in Kenya.  
"I presented on the topic of 'Emerging Trends in Social Work Education,' as well as moderating several sessions allowing me to interact and engage with conference participants in very significant ways," Mary said.
This conference was a huge accomplishment in the history of social work education in Kenya and allowed many professionals in the field of social work from different parts of the world to come together, exchange, and share social work scholarship.
Mary was also a critical member of the planning committee for the conference, representing Clarke University and collaborating with professionals from Maasai Mara University and the Association of Social Work Educators in Kenya (ASWEK), as well as Millersville University in Pennsylvania. Attendees came from nine different countries, including social work professionals and educators from Kenya, South Africa and as far away as Canada and the USA.
As part of the conference, presenters were also asked to plant a tree on the Maasai Mara University campus. Mary proudly planted "Prunus Africana" on behalf of Clarke University, reminiscent of Clarke's own Heritage Tree program.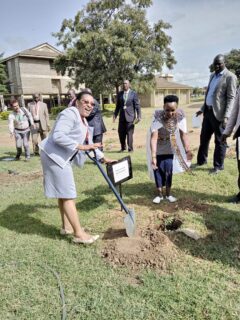 The conference is an extension of the community-building work that Mary has done with colleagues throughout Kenya during her career. In 2018 and 2021, she traveled to Kisii University to help establish the Center for Conflict Transformation and Peace Building Initiatives, which offers resources, training, and guidance for conflict resolution to the counties surrounding the university. 
This impact extends to students at Clarke and Loras as well.  For example, a group traveled to Kenya with Mary in January of 2020 to bless a Community Learning Center that was established with the support of organizations in Dubuque including Sisters of Charity, BVM, Sisters of St. Francis, Presentation Sisters as well as Sinsinawa Dominican Sisters and many individual donors. 
Through her work and travels, Mary learns unique approaches and techniques to social work and servant leadership that she shares in the classroom. Earlier this year, she presented the Mackin-Mailander Faculty Lecture entitled "Global Citizenship: Making Human Connections Through International Service Projects and Peace Building Efforts," to share her experiences with a wider audience. 
The possibility for real learning increases exponentially when one engages in service-learning.
"The desired result of global citizenship is to contribute to social justice, human rights, equity, diversity, and cultural engagements" Mary added. "Service-learning, especially at the global level, presents opportunities to work side-by-side with the local communities and to become a vehicle for enhancing human connections. It also led to increased cultural understanding and widened perspectives on societal and global issues." 
Born and raised in Kenya, Mary earned a master's degree in Social Work and a Ph.D. in Education both from the University of Wyoming. Beyond her teaching and research at Clarke, she also leads various study abroad trips for Clarke students and alumni, including a forthcoming trip to Kenya in January 2024.