Otherworld Presents Unique Opportunities for Audience, Cast and Crew
By Clarke News | April 26, 2021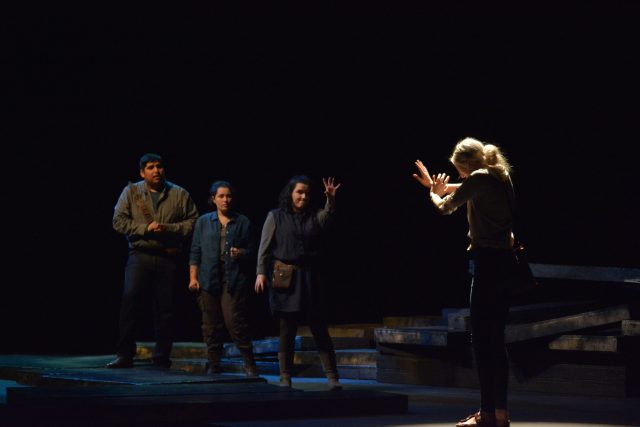 By Nicholas Halder, Theatre Director in Residence
One way or another, everyone has been affected by the COVID-19 pandemic on countless levels. Of course, this historic challenge has forced those in theatre to make great sacrifices and think in new and creative ways to tell their stories and to share in a communal experience with an audience. That desire to create during these uncertain times was not lost on Clarke Professor of Theatre Joe Klinebriel and Theatre Director in Residence Nick Halder. Both were determined to find a way to offer the Clarke community some form of theatrical activity this academic year and to see these pandemic conditions through the lens of "opportunity" rather than "restriction". That desire led to reconnecting with 2003 Clarke alumna and Minneapolis, Minn. based playwright Heather Meyer.  
Initial conversations about creating theatre during a pandemic eventually led to the idea of devising a new work for Clarke. The production could consider these uncertain times and provide students, faculty, and the community the unique opportunity to take part in the process of developing a new play. Fittingly, the group was interested in exploring a new iteration of an old tale. The classic Greek myth of Orpheus's attempt to bring Eurydice back to life by traveling to the Underworld and retrieving her resonated with them. The idea of two characters being separated and existing in two divided worlds perfectly paralleled the current condition: being separated from the people and things that each of us love. 
Thus launched the Otherworld Play Development Project, a year-long look into the creative process from concept to performances. A host of events were held this past fall to begin the project including a panel discussion about the creative process that included Meyer, as well as TONY® Award-winning director Rachel Chavkin and 1997 Clarke alumna and lighting designer, Holly Blomquist. Audiences were then treated to virtual play readings of the various drafts of Meyer's new work. Each opportunity presented a different look into the process of developing a play. 
As the process moved closer to production, Klinebriel, who is serving as the production's director, and frequent collaborators Professor Emerita Ellen Gabrielleschi and Adjunct Professor of Drama & Musical Theatre Robert Neumann '85, began conceptualizing the visual world that this piece takes place in. Auditions for the production were held in February 2021, with rehearsals beginning soon after. This year-long process culminated with both in-person and virtual performances taking place from the Terence Donaghoe Hall stage April 22-25, 2021. 
The entire Otherworld Play Development Project has demonstrated how resilient theatre artists can be when faced with new and challenging times. Clarke Theatre's collaboration with Meyer furthered the rich tradition and heritage of theatrical productions on Clarke's campus, which will provide lasting memories for years to come.