Clarke Students Host Food Drive During Holiday Inn Tip-Off Classic
By Clarke News | November 10, 2021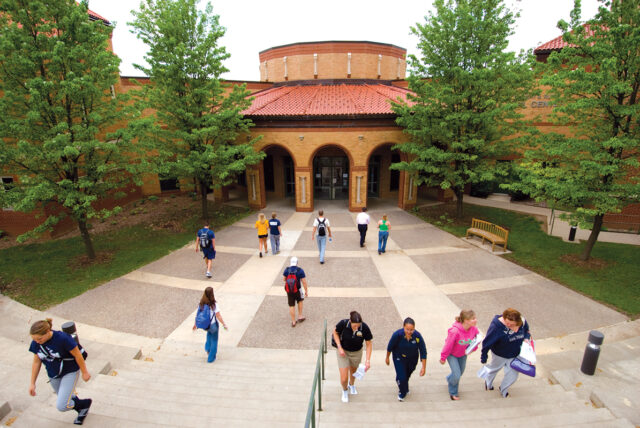 Clarke University students are hosting a food drive during the Clarke Men's Basketball Holiday Inn Tip-Off Classic at the Kehl Center on the Clarke University campus Nov. 12 and 13. Volunteers will be accepting non-perishable food items and cash donation in support of Dubuque's St. Stephen's Food Bank, which is part of the River Bend network of food banks. 
The idea for the event came from a group of students in Business Management Instructor B'Ann Dittmar's Leadership course, where students are challenged to design and complete a community service project of their choosing. Donovan Grunloh '24, Keon Killins '24, Stef Vasic '24 and Justin Everson '23 decided to partner with the area food bank so they could have a direct impact on the people around them. They worked closely with Clarke Athletics and Campus Ministry to help organize and promote the event. 
"We wanted to do something really active, that would help people in Dubuque right away," Grunloh said. "With three of us on the basketball team and the tournament coming up this weekend it seemed like a perfect way to bring in lots of people and help this organization." 
St. Stephen's Food Bank was established in 1982 and merged with River Bend Food Bank to expand their services in Dubuque and Jackson Counties. According to their website, St. Stephen's and River Bend Food Bank volunteers were able to distribute over 1.5 million meals to area residents last year and hope to continue expanding their efforts thanks to partnerships like the one with Clarke. This includes hosting mini food pantries on campus to assist students who are experiencing food insecurity, as well as hosting drives throughout the year. 
For Grunloh, organizing this drive is more than a class project; it empowers him to help the community he now calls home. 
"I think we're pretty privileged to be here, and as a Catholic University it is our calling to give back and be involved in the community," Grunloh said. "This is something I'm proud of; I like it here and I like the people. This is a way to return all I've received during my time here."