Clarke Launches Accelerated Elementary Education Degree
By Clarke News | June 21, 2022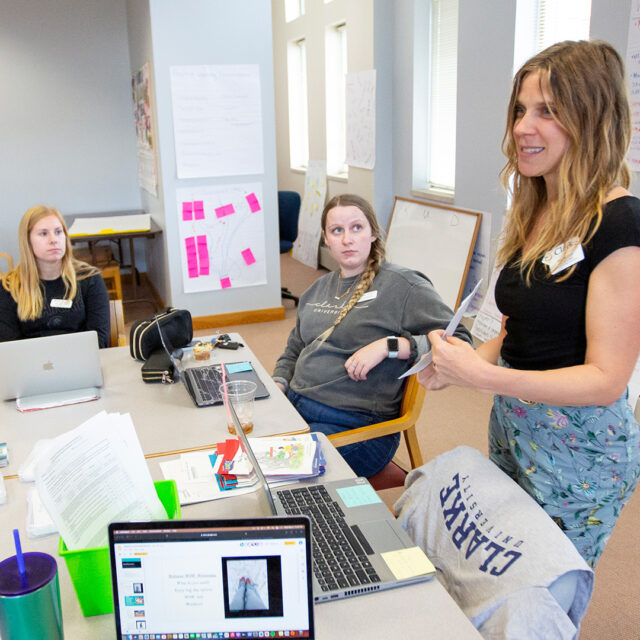 Clarke University has long been the tri-states' leader in teacher preparation. As the needs of our schools and communities change, Clarke is proud to develop offerings that rise to the challenge of 21st-century education, including our new Accelerated Elementary Education degree. 
The hybrid program launched in May 2022 and was designed to help professionals in the field, such as substitute teachers and paraprofessionals, take the next step in their careers while maintaining their ability to work full-time. The program blends online course work with face-to-face student teaching opportunities, while also providing the support and guidance Clarke is known for.  
The first cohort begins this summer and consists of 16 area professionals, many of whom are on track to earn their Bachelor of Arts in Elementary Education in as little as two years. This includes Nathan Tyler, Director of Safety and Security for East Dubuque Community Schools. 
"Clarke has been very welcoming and accommodating. They allowed me to bring nearly all my applicable credits and transfer them from other institutions, but I'd have to say that the personal touch the instructors bring to the program has made me feel the most welcome and confident." Nathan said. "I feel at home at Clarke and like the idea of finishing my degree at a local institution." 
Jessica Gintz, a 2007 graduate of the Clarke Art program, returned to her alma mater when she decided to make the career change to education, having found a passion for it while working as a substitute teacher in Charles City, Iowa.
I love that this program is online and that I am able to do as much as I can in my schedule. I am a full-time mom of three with one on the way and I work full-time. It has been very easy to put fit my school routine into my crazy life without any more stress," Jessica said. "Clarke gives its students the best foundation possible, so that the sky is truly the limit when it comes to education. It was also amazing to get the same warm embrace my second time as I did the first time at Clarke. I truly am grateful for everything Clarke has done to shape my future.
Though course work will be completed online, Clarke hosted an orientation for its inaugural class on May 12 as an opportunity to get to know the Education faculty they will be working with. Among them was Assistant Professor of Education Lee Johnson, whose own experience transitioning from a paraprofessional to a full-time educator heavily influenced the development of the program, as well as Education Department Chair, Ellen Spencer. 
"In the spirit of One Clarke, One Community, the Education Department has listened to our local K-12 colleagues who have asked for this pathway," Ellen said. "The online format allows working professionals to stay in the classroom while enhancing their skills and knowledge with Clarke. Together, we can help those passionate about education take the next step in their careers and support future generations of learners."
The Accelerated Elementary Education Degree is now accepting applications for Summer 2023, and there are several pathways for entry. For those with an Associate of Arts or Sciences degree, or at least 60 credit hours as required by Iowa and Wisconsin substitute teaching licensure, you can complete the core education requirements with Clarke and earn your elementary education degree in 18 months.  
If you have some or no college credit, you can borrow courses from Clarke's Bachelor of Applied Studies program to complete your degree in 2-3 years.  
To apply or learn more about the program, contact our Admissions Office by phone at (563)588-6316 or email at admission@clarke.edu.