Prior Learning Assessment
Earn Credit Toward a Degree with CareerPLUS Badges
SAVE TIME AND MONEY
Clarke's CareerPLUS digital badge program offers a flexible, affordable way for adult learners to earn credit towards their degree. CareerPLUS badge outcomes are aligned with those of credit-bearing Clarke courses, allowing badges to easily be converted to academic credit.
Earn a Badge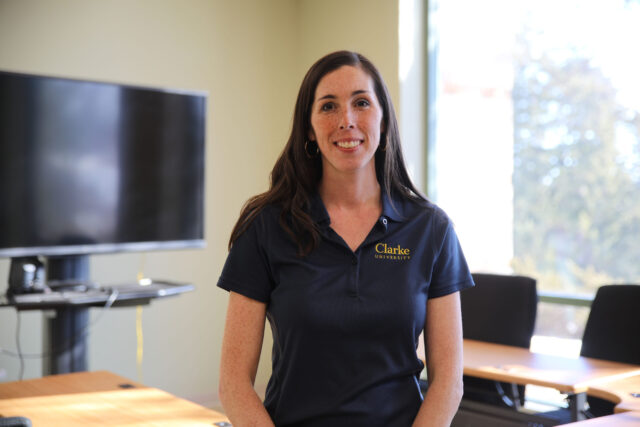 How It Works
Take three 4-week CareerPLUS micro courses to earn a CareerPLUS badge(s).*
Learn more about the cost savings of earning college credit through the CareerPLUS badge program.
If you have earned a CareerPLUS badge(s), check out to which Clarke for-credit courses these badges count towards for the Bachelor of Applied Studies Degree.
Submit your application to become a degree-seeking student.
Fill out a simple form to request that your CareerPLUS badge be converted to course credit toward your degree program at Clarke at no additional charge other than the initial cost of the badge.

Those who would like to count the Diversity & Inclusion badge toward the Global Awareness and Social Responsibility requirement must also submit documentation of five hours of diversity training/experiences.
*Badges may be earned before or after enrolling as a degree-seeking student at Clarke University.
Earn College Credit for what you already know
Did you know that Clarke University provides students an opportunity to earn college credit for learning that has taken place through life experiences, such as:
Full- or part-time jobs
In-house training sessions
Professional licenses and certificates
Military and government job training
Volunteer work and/or hobbies
This process of awarding college credit for documented college-level learning outside the classroom is referred to as Prior Learning Assessment (PLA).
How It Works
Review this PLA Checklist to see if PLA is right for you!
Learn more about the cost savings of earning credit through prior learning experiences. Instead of paying tuition for a credit-bearing course, you will simply have to pay the PLA fee if approved for PLA credit.
Optional: View the Clarke University catalog to explore which courses for which you might be able to earn credit based on your prior learning.
Contact us at careerplus@clarke.edu to get started on earning college credit for what you already know!