If you're serious about your academics at Clarke, the Scholars Program is a fantastic opportunity to take your learning and research to the next level! This group brings together students across majors to discuss important issues on campus, in our community, and throughout the world. You then pair those insights with high-caliber research alongside professors and mentors.  
The Scholars program will prepare you to be a critical thinker and adept researcher – skills that stand out on a resume for employers and graduate schools alike. Plus, you'll earn a scholarship for your involvement.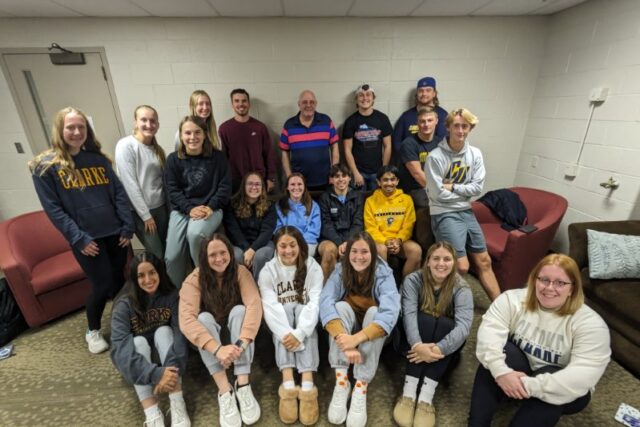 The Benefits of Being a Scholar
$1,000 renewable undergraduate scholarship each year you maintain a GPA of 3.3 or higher

 

Access to unique Scholars courses that can fulfill major and Compass requirements

 

Develop friendships and mentorships with peers and professors

 

Research the topics YOU are passionate about

 

Reserved study spaces for deep focus or discussion with other Scholar students

 

Scholars-only special events like banquets, river cruises, and trips to local attractions

 

Broader travel opportunities for cultural engagement, such as trips to Chicago for

Hamilton

or the Museum of Science and Industry. Trips are paid for by the university.

 
Program Requirements:

 
Maintain a GPA of 3.3 or higher.

 

Complete four "Scholars" courses.

For most students, these are a version of a standard Compass course with an added research component and easily fit into your academic plan. Scholars Seminar is among many students' favorite course, as it is a deep dive into the subject of their choosing. We've had Chemistry majors synthesize antibiotics in the lab, and Studio Art majors create elaborate 20-piece ceramic sets. With the help of the Scholars Program, anything is possible!

 

Engagement requirements.

A well-rounded college life includes experience outside the classroom. The Scholars Program awards you points for taking part in a student group or organization, attending or planning group events, volunteering in the community, and other activities that demonstrate leadership. Plus, this participation can count towards Compass or major requirements as well.