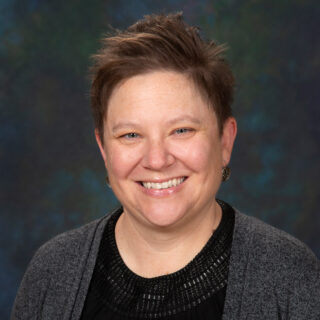 Amanda Greubel, DSW
Assistant Professor of Social Work
---
Educational Background
Doctorate in Social Work, St. Catherine University-University of St. Thomas, St. Paul, MN; May 2018
Dissertation: Benevolent Sexism: Manifestations in American Social Systems
Masters of Social Work, St. Ambrose University, Davenport, IA; May 2007
Bachelors of Social Work, Wartburg College, Waverly, IA; May 2001
Teaching Philosophy
As a social work educator, my ultimate goal is to light a fire for social justice in my students. As a learner, that fire has been stoked in me by experiences that challenge me to engage with information in a new way – understanding it from a different perspective, seeing an unexpected relevance to my own life, or exposing an opportunity for action. I aspire to involve my students in a similar process through transformative educational practices.
From the moment I arrived on campus for my interview, Clarke University felt like home. I hear this same sentiment echoed in my students' conversations about why they chose Clarke, as well. I am grateful to be part of an institution where relationships matter and people find a place they belong.
Amanda Greubel
Profile
Professional Background
St. Ambrose University School of Social Work
Director of Field Education and Clinical Instructor June 2013 – June 2018
Central DeWitt Community School District
Family Resource Center Director August 2008 – June 2013
Generations Area Agency on Aging
Elderly Waiver Case Manager May 2007 – August 2008
Northeast Iowa Community Action Corporation
Family Development Specialist May 2004 – June 2006
Peoples Community Health Clinic
Priority One Program Case Manager July 2001 – May 2004
Research Interests
Women's rights
Healthcare justice
LGBTQIA+ rights
Social policy
Courses Taught
Practice I: Social Work with Individuals
Practice II: Social Work with Families and Groups
Psychopathology
Integrated Health I
Issues in Social Work Practice: Sexual Orientation and Gender Identity
Mental Health and Social Work
Certifications and Memberships
Member, National Association of Social Workers
Member, Council on Social Work Education
Licensed Master Social Worker, State of Iowa. #06071
Community Service/Volunteer Activities
Tri-College Take Back the Night, Dubuque, IA. On-site Volunteer Counselor. (2019 – Present).
First Congregational United Church of Christ, DeWitt, IA. Various committee assignments and volunteer activities. (2007 – Present)
Frances Banta Wagonner Community Library, DeWitt, IA. Member, Library Expansion Steering Committee. (2018 – 2019).
Summer Lunchbox Program, DeWitt, IA. Co-coordinator. (2014 – 2016)
Sunbeam Children's Home, Bushy Park, Jamaica. Mission Team Member. (2010 – 2013)
Additional Information
Award winner:
Abigail Quigley McCarthy Center for Women-St. Catherine University, St. Paul, MN. Recipient, Research and Creative Work Award for historical research paper Curricular Content on Women: CSWE's First Step Toward Gender Equity. (April 2016).
Publications

Greubel, A. (2019). Curricular content on women: Gender equity in social work education. Journal of Social Work Education. https://doi.org/10.1080/10437797.2019.1671267

Selected Presentations

Greubel, A. (October 2019). Looking Back: Sexist Bias and Gender Equity in Social Work Education Curricula. Council on Social Work Education Annual Program Meeting, Denver, CO.

Greubel, A., Walsh, L., & Walsh, L. (March 2019). Including LGBTQ+ Folx (panel discussion). Clarke University "Living on the edge: Healthcare in the margins" Interprofessional Conference. Dubuque, IA.

Greubel, A. (October 2017). Benevolent Sexism in Reproductive Health Policy: Whole Woman's Health v. Hellerstedt. Council on Social Work Education Annual Program Meeting. Dallas, TX.

Greubel, A. (February 2014). Speaking Up: Confronting Poverty Through Policy Practice. St. Ambrose University School of Social Work "Perspectives on Poverty" Conference. Davenport, IA.

Bernstein, J., Clements, T., Greubel, A., & Sipprelle, S. (June 2011). Invited testimony at "Stories from the kitchen table: How middle class families are struggling to make ends meet." United States Senate Health, Education, Labor, & Pensions committee. Washington, D.C.