Senior Gets Comfortable with Being Uncomfortable
By Clarke News | May 10, 2023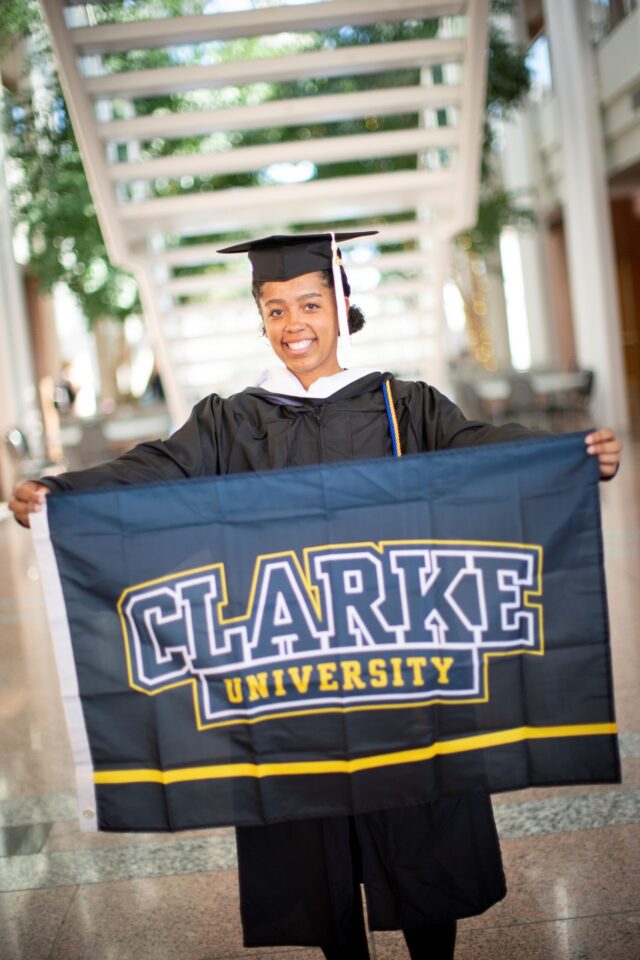 While most graduating seniors look forward to their commencement ceremony, the turning of the tassel has a special significance for Business Administration major Daija Bates. 
"When I graduated high school in 2020, we weren't able to have a commencement ceremony due to COVID. This will be my first time really walking across the stage and accepting my diploma," Daija said. "Part of me is nervous, but part of me is really excited to reach this milestone." 
Daija completed her undergraduate degree at Clarke in just three years thanks to earning dual credits from Des Moines Area Community College while still in high school, but that doesn't mean she's shortchanged her college experience. While maintaining her spot on the dean's list all three years, she also got involved on campus, working alongside Casey Tauber for Clarke Athletics, offering tutoring services in the MARC, and planning events as part of the Clarke Activities Board. 
"CAB worked on Clarke Fest and I was really excited to be a part of that event," Daija said "It's such a fun event and it is especially rewarding because it invites the community to campus. Plus, it's a great lead up to commencement and a perfect send off for all the seniors." 
Beyond her many jobs, Daija also plays short stop for Clarke Softball and earned an All-Conference Honorable Mention in 2022 and Second Team All-Conference in 2023. She credits her coaches and teammates as some of the most important factors for her success on the field and in school.  
"I started college when there were still a lot of COVID restrictions in place, so you had to insulate your team in a lot of ways. Thankfully, I think it made us this tight-knit group," Daija said. "The team helps me stay on track and holds me accountable. We know we can rely on each other." 
That team spirit has been tested in recent weeks as Head Coach Garland Shirley went to the Mayo Clinic for a double lung and kidney transplant. Though Daija said he calls, texts, and emails with the team daily, she's also worked to rally the team as this year's co-captain. 
"There was this sense of panic when he first left, but since then we've really come together as a team," Daija said. "It gives us a greater sense of purpose while we're playing. Every game is for him. We know that he will come back, and when he does, he'll return to a strong and confident team." 
After completing her undergraduate degree, Daija intends to stay at Clarke another year to earn her MBA and continue competing with Pride Softball. What comes next is still to be determined, but Daija says she's getting more confident every day. 
"When I first came to school, I was very reserved. I am still a quiet person, but I've grown so much in my time here and I don't want that to end. I've learned that it's OK to feel a little uncomfortable because that means you are growing," Daija said. "I'd like to pursue a career in marketing and that field can take you anywhere. I've thought about Florida, Arizona, and other places. Even if I feel a little uncomfortable at first, wherever I go, I know I'll be ready."