Jessica DuBord Shares Her "Work in Progress" on March 22
By Clarke News | February 27, 2023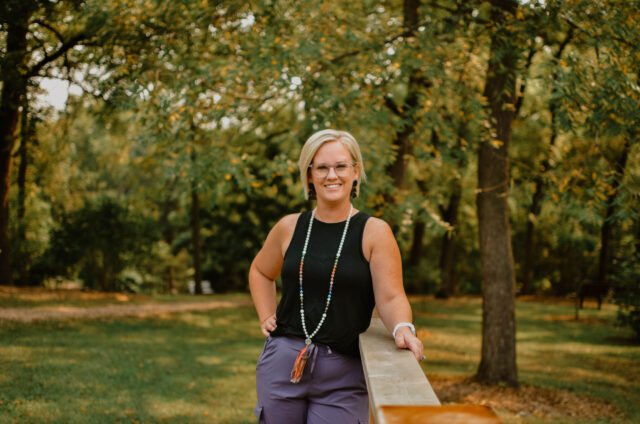 As part of the annual Mackin-Mailander lecture series, Clarke is honored to welcome Jessica DuBord '17, '20M to campus March 22 at 7 p.m. in the Alumnae Lecture Hall. Her lecture, "Work in Progress" is free, open to the public, and will include light refreshments. 
Jessica is proud to be a wife, mother, and fourth grade teacher at Prescott Elementary in Dubuque, Iowa, but the path to her success was not always clear. From struggling to find her passion after high school to a life-changing altercation that set her on a new journey, Jessica's lecture tells a compelling story of how it is never too late to become who you want to be.  
Jessica earned both a Bachelor of Arts in Elementary Education and her Master of Arts in Education from Clarke University while juggling the responsibilities that come with working and raising five children. At times it all felt overwhelming, yet Jessica knew she was pursuing something that would allow her family, her career, and all areas of her life to flourish. 
A work in progress is exactly who I am. I am always looking for ways that I can be a better partner, parent, teacher, daughter, sibling, and friend. I learned through the course of my life that it is never too late to create the life you want. I work hard to share that with others, especially by creating a learning environment in my classroom where all students feel safe and supported as they grow and learn. 
Jessica DuBord '17, '20M
The Clarke University Mackin-Mailander Lecture Series was established in 1997 after Clarke received gifts from two alumnae, Mary Mackin '34 and Verna Slattery-Mailander '20, to establish an endowed lecture series. The annual series consists of three lectures, including a prominent outside speaker, a faculty lecturer, and an alumni lecturer.