Fighting Fire with Psychology
By Clarke News | November 10, 2022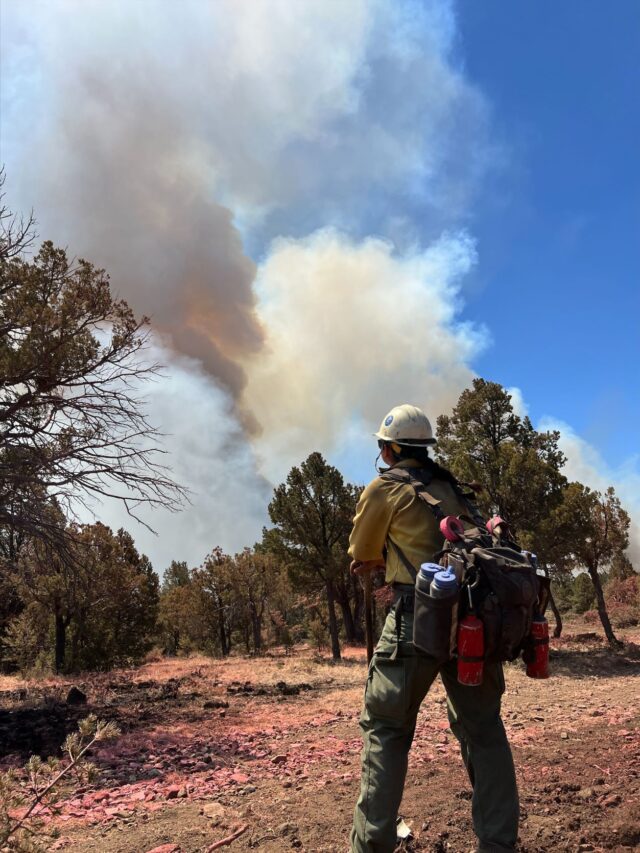 Growing up in Pocatello, Idaho, Brynlee Ward '22 developed a deep appreciation of the beautiful forests of the Western United States. After a chance meeting in college, she was inspired by a friend's stories about his time as a wildland firefighter preserving those precious lands. Now, she is using her Psychology internship to serve on the front lines of some of the most dangerous wildfires in the country. 
At any given time, multiple fires may be active throughout the region. While she mainly covers Southeast Washington, Brynlee has been sent to Western Washington, New Mexico, and Colorado as part of her seasonal job from April to September. Once at the site, Brynlee and her team break into divisions and allocate resources ranging from air attacks using helicopters and tankers to hot shot, hand, or engine crews.  
Brynlee most often works on hand and engine crews, digging in the dirt with modified gardening tools and running chainsaws. Her work on the ground removes grass, trees, and brush that can fuel a fire. Engine crews, meanwhile, lay trenches with fire houses to make water more accessible. 
While no one questions the physical demands on these wildland firefighters, who can often work in 14 or 21-day rolling shifts, processing the emotional and mental impacts gets less attention. This inspired Brynlee to dedicate her internship and the last three credits of her Clarke Psychology degree to helping the men and women doing this dangerous work.  
I have been using my background in Psychology to help firefighters overcome their stressors and be able to talk about traumatic experiences that they go through in a healthy way. I hope that other firefighters will learn from me that it is okay to feel your feelings, and it is okay to talk about them. We are all in this together, no one is alone, and mental health is important. 
Brynlee Ward, '22
Brynlee is completing her internship under the guidance of Associate Professor of Psychology Tim Boffeli, who has coached her through virtual meetings and email. They customized the internship experience to match this unique opportunity. 
"Brynlee changed her whole schedule to meet this national need.  I'm proud to support her in this way," Tim said. "She is an exceptional person. Brynlee's learning objectives are designed to enhance her personal and professional development. She will also have a positive impact on the fire crews' lives. I cannot wait to see how she continues to grow in the field of Psychology."  
Director of Career Services Becky Herrig '84M, '16M also assisted Brynlee and Tim in creating a plan to ensure Brynlee's work would satisfy academic requirements, while allowing her to do the job she loves. "I am so proud of Brynlee and her passion and enthusiasm for making the world a better place while completing her degree. While meeting with Brynlee virtually , she just radiated professionalism," Becky said. 
Eventually, Brynlee would like to continue her education and pursue graduate school. Until then, she is happy to continue learning and growing alongside her teammates on the fire crew. 
"I have learned so much about myself and how far I can push myself," Brynlee said. "I have been past the point of mental and physical exhaustion where I think I cannot walk another 10 feet. However, the people surrounding me have helped push past that and we have all carried each other. I have learned how to be a better leader, communicator, and person."