Clarke Senior Rachel Crawford Awarded McElroy Trust Graduate Fellowship  
By Clarke News | May 7, 2021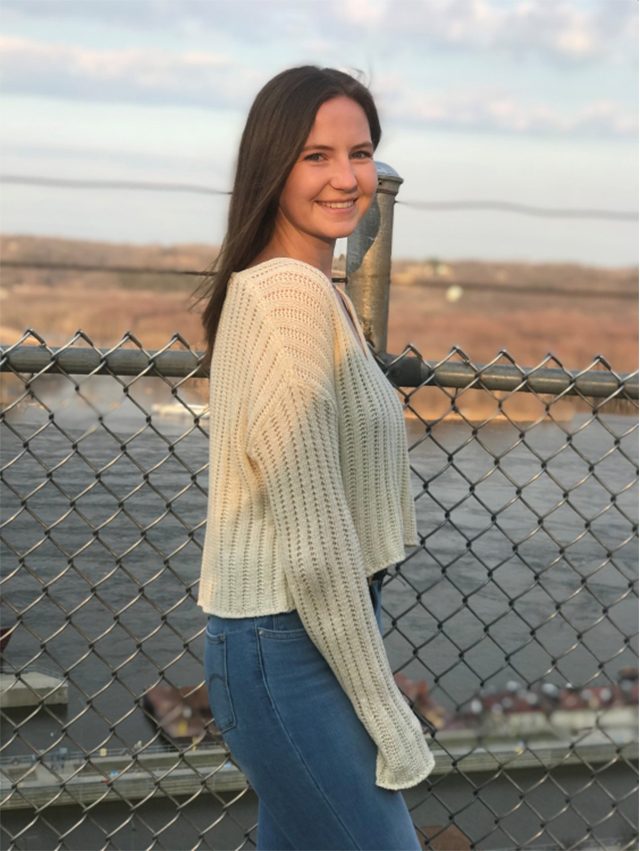 Clarke University is pleased to announce that Rachel Crawford has earned a prestigious McElroy Trust graduate fellowship. Crawford is from Cedar Rapids, Iowa, and is a senior at Clarke University. She will graduate from Clarke this May with a Bachelor of Science degree in Biochemistry. She is also a member of the Clarke soccer team.
"I was extremely honored to be awarded the McElroy Fellowship because it is such a competitive award. I was already really grateful for the application process and getting to work with the committee at Clarke because they gave me a lot of real-world experience and feedback on how to prepare for interviews and make myself stand out in a positive way, and those are lessons that I will use throughout my life," Crawford said. "I'm also very grateful for the money that comes along with the fellowship because I will be able to focus a lot more on my studies during graduate school and preparing myself for a career in toxicology research which I am very excited about."
Crawford is the eighth Clarke student to be awarded a fellowship since the program was established in 1983 to encourage persons of accomplishment, intelligence, integrity, and leadership ability to pursue challenging academic careers. She and Eryn Perry of Wartburg College will each receive a stipend of up to $36,000 paid over three years to pursue their Ph.D. work. Crawford and Perry were selected from a field of finalists from colleges and universities in Northeast Iowa.
Clarke President Thom D. Chesney, Ph.D., praised Crawford not only for her academic successes, but for her positive impact at Clarke and in the community.
"In my day-to-day work over the years, I often see students who are able to focus and deliver on opportunities that will lead them towards their academic and career goals. Rachel is undeniably one of these, and she has expanded her campus reach and influence upon the wider community by participating in undergraduate research, which connects her to audiences of her peers and the broader community," Chesney said. "A McElroy Trust Scholarship will not only accelerate and underwrite her learning, but also assure she can sustain the reciprocal impact of serving others and learning from them at the same time."
Crawford will pursue a Ph.D. in Human Toxicology from the University of Iowa in Iowa City, Iowa.
Norma Pérez-Kahler, Ed.D. Dean for the College of Arts and Sciences, said of Crawford, "Rachel is recognized by other students, faculty, and staff as an accomplished leader with high integrity and work ethic. She has been on the Dean's list through her four years at Clarke University and is an NAIA Scholar Athlete. Her educational path reveals a clear sense of direction for her professional life, demonstrating a passion for scientific experimentation and research in the realm of toxicology, human health, and the environment."
The McElroy Fellowships were established to support students seeking higher education. The Trust benefactor, R. J. McElroy was a pioneer broadcaster who started the Black Hawk Broadcasting Company in 1947. He died in 1965.
For more information, contact Stacy Van Gorp with R. J. McElroy Trust at (319) 287-9102.
Past Clarke Winners of this Fellowship:
2018 – Josh Prindle, Biochemistry & English
2008 – Holly Feser Stessman, Biology & Biochemistry, Drama minor
2001- Emily Duehr, Psychology
1997 – Christina Hosch, Chemistry
1991 – Aliston E. Thomas, Chemistry
1989 – Leo Kueper III, Chemistry & Computer Science
1986 – Renee Herber, Chemistry