Clarke Compass Award Empowers Students to Make a Difference
By Clarke News | November 14, 2022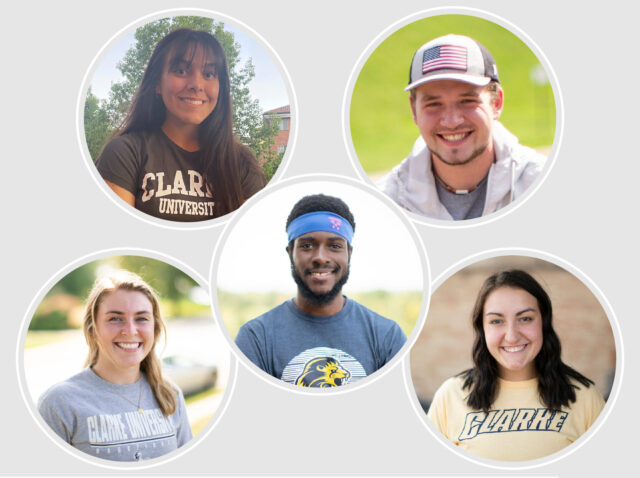 Thanks to the generous support of Clarke alumna Jenifer (Collins) Westphal '84, five Clarke students recently received the Clarke Compass Award, funding their efforts to address issues of equity and inclusion in the Dubuque community.
Working as a team throughout the 2022-2023 school year, the students will develop and implement a plan of action for change as it relates to systemic challenges of racism and oppression in the Dubuque region.  Each student will receive $3,500 for their efforts, as well as the support and guidance of a dedicated program mentor.
This year's recipients and mentors include:
Students 
Drew Fox, Biology, Danville, IA '25

 
Victoria Patnaude, Social Work & Psychology, Pikeville, NC '24

 
Alex McClelland, Biology, Pleasant Valley, IA '23

 
Sky Culbertson, Health, Wellness, and Behavioral Sciences, East Dubuque, IL '23

 
Curtney Germaine, Biology, Miami, FL '24

 
Mentors 
Paula Schmidt, Professor of Education

 
Aimee Taylor,

Assistant Professor of Compass

 
Becky Herrig, Director of Career Services,

'84, '16M

 
Sr. Kathleen Sinclair, Director of Campus Ministry

 
Deann Petitgout, Chair of Compass & Senior Instructor of Athletic Training

 
The Clarke Compass Award was developed with the six Compass outcomes in mind: Communication, Professional Preparedness, Thinking, Knowledge, Global Awareness and Social Responsibility, and Spirituality. It also actively integrates Clarke's core values of education, freedom, charity, and justice into the students' experiences, complementing their prior service-learning activities and coursework.
Previously known as the Activism and Values Informed Education Clarke Compass Award, the program is in its third year. Previous cohorts have collaborated with the Boys and Girls Club of Greater Dubuque and the local Marshallese population to increase awareness and understanding of the issues facing marginalized groups in Dubuque.
Watch for future updates from the Clarke Compass Award cohort at clarke.edu/newsroom.