Clarke Celebrates 179th Commencement Ceremony
By Clarke News | May 15, 2023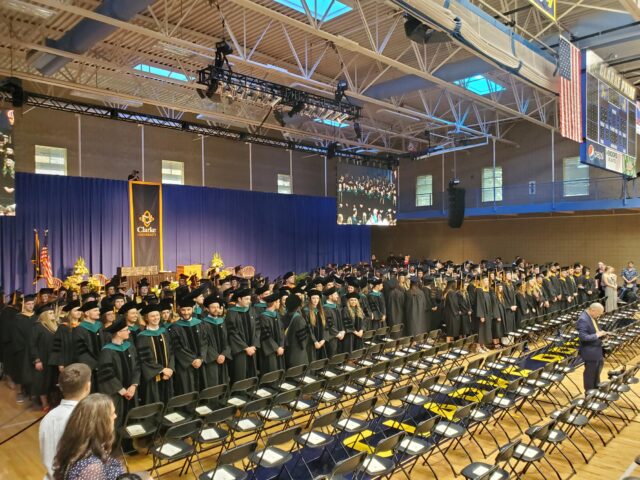 Clarke University held its 179th commencement ceremony on Saturday, May 13, 2022, at 2 p.m. in the Robert and Ruth Kehl Center on campus.   
The ceremony honored 226 bachelors, masters and doctorate degree candidates for their achievements in front of honored guests, faculty, staff, classmates and family members.   
Students receiving special honors included this year's co-valedictorians Education major Isabelle Barefoot and Philosophy major Matthew Priola. Nathaniel Seutter, a Biology and Philosophy major who will be entering the Dominican Order upon graduation, led this year's invocation. Additionally, Biology and Pre-Medicine double major Giana Michels received the Francis J. O'Connor Memorial Award, the most prestigious award given to a graduating senior. The award recognizes Giana's demonstrations of leadership, cooperation, generosity, kindness, and academic achievement throughout her time at Clarke. 
Sr. Catherine Dunn, BVM and president emerita of Clarke University, gave the commencement address honoring her 50 years of service to Clarke University.  
Mary Frances Clarke, the Foundress of the BVM Congregation and Clarke University, left us much to ponder with her quote, 'Leave the future to God. I do not worry about you as long as you are working unitedly. As a student you have discovered its meaning, as an alumn you are called to live it. . . it is your generation who is being called to work unitedly, to make better workplaces and to create strong communities.  
Sister Catherine Dunn, BVM, President Emerita
Prior to commencement, Clarke's graduation candidates and their guests took part in a Baccalaureate Mass at 10 a.m. in Sacred Heart Chapel, followed by brunch in the Dining Hall.  
The class of 2023 would like to extend a special thank you to all who celebrated with them and supported them on their journey. To watch a recording of the ceremony, please visit our YouTube page and select Clarke University Commencement 2023.