Choosing Social Work as a Path to Help Others
By Clarke News | December 2, 2021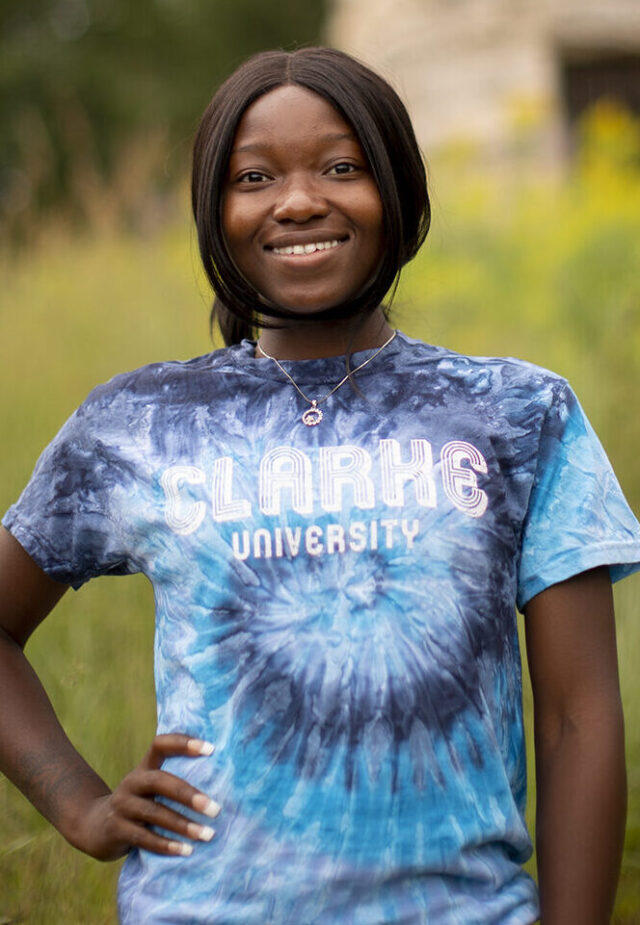 When you're a cross country runner, you come to expect that not every path in life will be a straight one. For Ricar Mends, the path to Clarke from United Township High School in East Moline, Illinois definitely had some curves.  
"I was actually recruited by University of Dubuque for their Cross-Country team and the coach happened to mention Clarke. I thought I would check it out since I was close by and the second I stepped on campus I thought, "this is where I want to be," Ricar said. "When I learned they had a strong Social Work program, it made my decision for me." 
"I found social work because as a senior in high school, a teacher assigned us a presentation on what we wanted our future career to be. I didn't have a clue, I just knew I liked to talk to others and help them cope with whatever was going on in their lives. I started researching and came upon social work, and it felt like an instant calling," Ricar added. "It was made for me because a degree in social work doesn't mean you have to be one thing. You can help people in so many ways and I love that." 
Throughout her time at Clarke, Ricar has put that passion for helping others to good use. Not only has she taken part in community events through her social work classes, joined the Future Women in Leadership cohort, and offered support to fellow student-athletes through the Clarke Association of Student-Athletes, she has also volunteered as part of Clarke's Peer Mentoring program. 
I come from a very diverse place, so I was a little nervous coming here. I worried if people would judge me or think I was weird. I tried to focus on the positives and challenged myself to be open to learning about other people and their cultures, and I've found a community here. I wanted to volunteer for the Peer Mentor program to help others who might have those same worries or concerns.
"I am so glad to be serving as a mentor because I feel like it has really helped me and my mentee. When I'm giving him advice on studying or making friends, I remind myself to be an example. It's also been great experience for my future in social work because I am helping people and providing them with resources." 
Running has also continued to play a role in Ricar's life, and this fall she completed her senior year with the Cross-Country team by finishing 10th at Conference. She earned a personal best time of 19:28.9 and earned All-Conference First Team honors. "I've always tried to be confident in my running, but at Conference I surprised even myself. Something took over me and I just let it flow. It was one of the best runs of my life." 
After completing her bachelor's degree this spring, Ricar hopes to continue her education in the Clarke Master's of Social Work program and work in children's advocacy. 
"My professors are just so cool, especially in the social work department. They share their stories and life experiences so we get an idea of life in the field," Ricar said. "I decided to continue with my MSW because I don't want to lose the skills and experiences I've built at Clarke. If I continue with my master's now, there will be even more possibilities waiting for me after graduation."