Alumni Spotlight: Elliott Carr '12
By Clarke News | May 22, 2023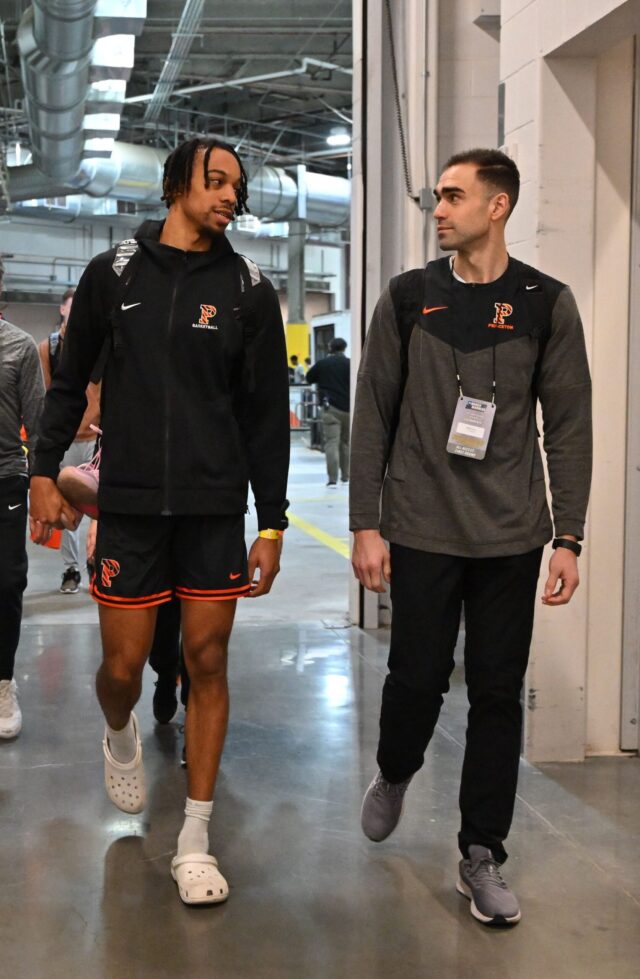 Clarke: After Clarke's Women's Basketball National Championship, it felt fitting to connect with an alum with ties to Clarke Basketball. How has the sport remained a part of your life since your time at Clarke? 
Elliott: I am an Assistant Director of Athletic Communications at Princeton University where I serve as the primary communications contact for the men's basketball, women's volleyball, men's & women's tennis, men's & women's swimming & diving, and women's rugby teams. Recently, our men's basketball team made the Sweet Sixteen, which was an incredible experience to be part of. 
Clarke: Wow! Can you share some more about your Sweet 16 experience? 
Elliott: Helping manage media relations and communications during the men's basketball team's recent run to the Sweet Sixteen was a challenge and an amazing experience all in one. I helped place feature stories in publications like The New York Times, Time Magazine, The Wall Street Journal, USA Today, the New York Post, ESPN.com. The Athletic and the Chicago Sun Times. I also helped coordinate TV appearances on Good Morning America, CNN This Morning, the TBS Pregame Show, NBC Sports Chicago, the BBC in the UK and the CBC in Canada, just to name a few, along with several national radio appearances for our players and coaches. 
I am extremely proud of the players, and all the students and colleagues I get to work with every day. In 2021 I helped manage a creative team that won six College Sports Communicators (CSC) Digital Design Awards. This was the third-most of any NCAA DI institution and Princeton was the only Ivy League school honored. In 2022, I received a Tiger award at Princeton. The Tiger award is intended to recognize employees who have gone above and beyond their job responsibilities.  
I've also had the opportunity to cover multiple Olympians, NCAA Champions, professional athletes and conference champions across a wide range of sports during my time in the profession. 
Clarke: Working in athletics can have some great rewards, like that tournament run experience, but it can also bring a lot of challenges. Do you have any advice or insight for students considering a career in the world of athletics? 
Elliott: After I first graduated from Clarke with my Communication degree and moved back to Australia, I couldn't find a job in sports. Despite continually getting rejected from jobs, I stuck with the goal and eventually landed a Sports Information Graduate Assistant position at North Central College in Naperville, Illinois. The experience re-affirmed that you can't expect instant gratification, you have to be persistent and continue working toward your goals even if you're not getting the result you're hoping for right away.   
Working in collegiate athletics involves long hours from late August until as late as June. You're working most weekends, sometimes have to sacrifice weeknights, cut holidays short and it's far from a traditional 9-5 job. It can be easy to allow other areas of your life like family, friends, and your own health and fitness slip. I do my best to be deliberate about making time for all of those things because they're all essential parts of your life.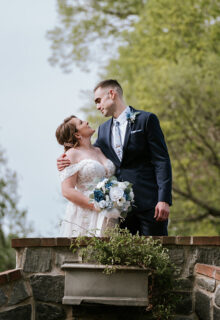 Clarke: Speaking of other areas of your life, you shared that you recently got married – Congratulations!
Elliott: Thank you! In August 2022, I traveled home to Australia for the first time since 2019. I was unable to do so previously because of border closures. It was on this trip home I proposed and got engaged to my now wife, Colleen. 
We got married on April 16 in Wrightsville, Pennsylvania. My two best men, Bobby Springer '12 and Travis Gabehart '13, are Clarke aIumni, and my other groomsmen, Peter Edgar, studied abroad at Clarke my freshman year when he was a student at Queens University, Belfast. 
Clarke: So, it's fair to say your time at Clarke is still impacting your life today? 
Elliott: Yes, the friendships I made meant everything. The fact I met my three groomsmen at Clarke is a testament to that. I'm also grateful to still be in contact with several former teammates and coaches. 
I miss playing and my teammates a lot. The games, practices, bus rides, pre-season conditioning sessions are all great memories. But it was more than basketball – I loved getting out into the community with Into the Streets and making a difference. I looked forward to it every year. You had things like Halloween and Christmas Dinner too.  
Then there were my professors and instructors like Ken Brown and Kylie Loeffeholz. Tim Boffeli's Psychology classes were a blast, he was so passionate and knowledgeable. He was another guy who had years of experience in the field and was great at incorporating that into his teaching. And I can't forget my Communication classes with Dr. Abdul Sinno. He had a long career as a communications professional before becoming a professor and I learned so much from him. He also had a quick wit and a great sense of humor, making his classes both entertaining and informative. The man is a legend who made a huge impact on so many people. 
Clarke has been such an impactful part of my life. I got a degree, played basketball, met my best friends and laid the foundation for what I'm doing in my career there. 
Thank you for sharing your story with us, Elliot! Do you know a member of the Clarke alumni community we should highlight? Submit your nominations for a future Alumni Spotlight by emailing alumnirelations@clarke.edu.