Alumna Featured on Disney's "Best in Snow"
By Clarke News | November 14, 2022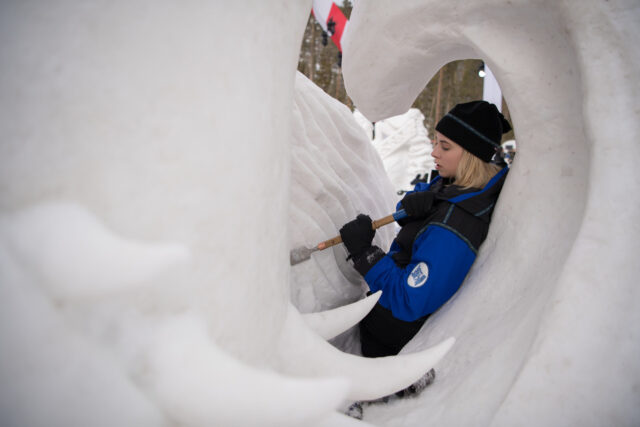 When Rachel Spurling, BFA '18 agreed to compete with local artist Jeremy Rudd and fellow Clarke alumna Kelsey Hammons '18, in the annual snow sculpture event in Dubuque's Washington Park, she couldn't have known the impact it would have on her future. Thanks to that competition, Rachel had the chance to carve some of the most magical characters on earth as part of "Best in Snow" premiering on Disney + on November 18. 
After winning Dubuque's Winter Arts Snow Sculpting Festival in 2019, Rachel and her team competed in the 2020 United States Snow National Sculpting Championship in Lake Geneva, Wisconsin. It was there that she connected with several national talent scouts and over the next two years, gained connections that helped bring her to Disney's attention.
"I just kept saying yes," Rachel said. "Over several months I did auditions and screen tests so they could learn more about my personality and my artwork. Then, right around Christmas in 2021, a producer let me know I was selected for the show." 
Rachel then joined the cast and crew of "Best in Snow" in the magical snowy village of Snowdome. She and another professional carver were paired with a team of four contestants to transform their ten-foot, twenty-ton blocks of snow into beautiful creations inspired by Pixar, Marvel, Walt Disney Animation, Walt Disney Studios, and The Muppets Studios. 
"It was such a learning experience because not only did we have to teach four people how to snow sculpt on the spot, but I was working with a professional ice sculptor who had her own approaches and tools," Rachel said. "It was really empowering to see the team take control. In a matter of days, they got comfortable working on their own. They saw the vision and how their work fit into it."
Compared to other types of sculpture like clay, metal, or wood, snow sculpture is about subtracting material rather than adding it. It can be a daunting task to determine where and how much to remove. Added to that are the challenges of weather and snow texture, meaning that if conditions change, all your hard work can be gone in a matter of days.
You have these huge public displays that are truly ephemeral art. The work will fade away and that is bittersweet, but people also engage with it. They like to see how the shapes change, to guess how long it can stand. I hope the show can introduce more people to snow sculpting. It was an honor to work alongside this community of artists.
Rachel Spurling, BFA '18
Rachel has also embraced the community of artists in Dubuque and at Clarke. Through her business, Artist Rach Ceramics, she produces functional pottery as well as offering ceramics instruction. She also lends her skills to the Clarke community, offering current students insight to life as a professional artist and working alongside them in the campus studio. 
"My sculptor instructor at Clarke always pushed me to explore what was possible in my art. Working in the studio, it was like there were all these mad scientists in the basement of Eliza Kelly. I wouldn't have had the exposure to all these mediums and methods without Clarke," Rachel said. "I still use the studio space there and meet with students to talk about life as a professional artist. It's nice to have that opportunity to give back." 
Rachel will be sharing her professional experiences outside the studio as part of an alumni panel for Clarke's Art + Design Workshop on November 18. She also actively partners with businesses and community organizations like Art on the River, the Dubuque Area Arts Collective, and Planted. to showcase her work.  
To learn more about Rachel and her art, visit artistrach.com.  You can also view the Best in Snow trailer on YouTube.