2023 Clarke Compass Award Winners Announced
By Clarke News | November 13, 2023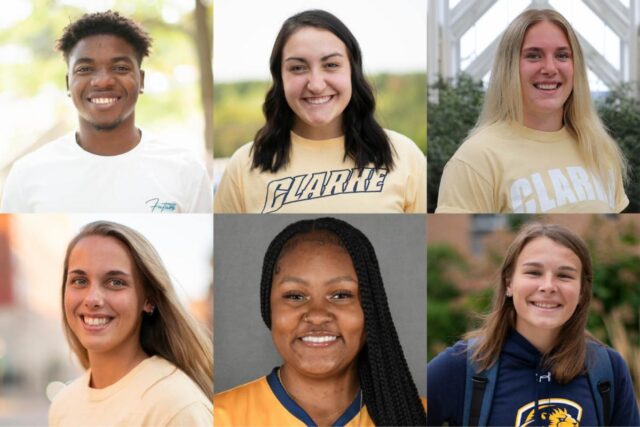 Six Clarke University students have been selected for this year's competitive Clarke Compass Award. The social justice and scholarship initiative is in its fourth year and thanks to the generous support of alumna Jenifer Westphal '84 it has awarded over $50,000 to Clarke students since its inception.  
Together, this year's recipients will develop and implement a plan of action for change as it relates to systemic challenges of racism and oppression in the Dubuque region. Each participant will receive two $2,500 scholarships, one in fall semester and one in spring, to support the additional work beyond their already demanding academic and personal schedules. Along with the financial award, each student is paired with a dedicated mentor throughout the academic year to support them in their community service. 
This year's recipients include: 
Halle Boldt, Business Administration & Sport Management, Sheboygan, WI '24  
Christopher Brodrick, Business Administration, Johannesburg, South Africa '24  
Drew Fox, Psychology & Pre-Physical Therapy,  Danville, IA'25  
Kennedi LeDuff, Social Work, Aurora, CO '26
McKenzie Nodolf, Psychology & Pre-Physical Therapy, Ripon, WI '25  
Isabella Peterson, Health, Wellness, and Behavioral Sciences, Oregon, WI '24 
The Clarke Compass Award was developed with the six Compass outcomes in mind: Communication, Professional Preparedness, Thinking, Knowledge, Global Awareness and Social Responsibility, and Spirituality. It also actively integrates Clarke's core values of education, freedom, charity, and justice into the students' experiences, complementing their prior service-learning activities and coursework. 
Previously known as the Activism and Values Informed Education Clarke Compass Award, earlier cohorts have collaborated with the Boys and Girls Club of Greater Dubuque and the local Marshallese population to increase awareness and understanding of the issues facing marginalized groups in Dubuque.