Online Bookstore/Textbooks
Selecting and ordering textbooks is done completely online at the Clarke University Online Bookstore.
The Clarke Online Bookstore offers:
Quick ordering process – complete your purchase in 5 minutes!
New, used, eBook, & rental textbook formats
An average savings of 60% off list price on Marketplace items!
Price Match Guarantee on all new books
Bookstore Charge Program: Buy now, pay later
Free shipping on retail orders over $49
Year-round access to post and sell any textbook on the website's Marketplace – you name the price!
Visit the website and order online at www.clarke.edu/textbooks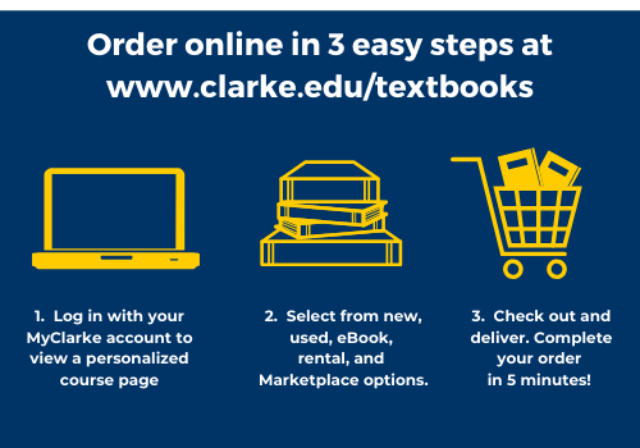 All courses, required materials, and pricing options are displayed in a personalized, easy-to-use page when you log in with your student account.
Log in with your My.Clarke credentials
Select your textbooks
Checkout & Deliver
Order early to take advantage of the great savings opportunities and free delivery options. Visit the website today at www.clarke.edu/textbooks (redirects to clarke.textbookx.com).
All textbooks will be delivered to the Clarke University mail room unless students change the address to their home. Hours for pickup are the same as the Whitlow Campus Store hours.
School supplies such as goggles, composition notebooks, and disposable lab coats will be available for purchase in the Whitlow Campus Store.
Need Help? Contact the Bookstore's Customer Service team: Clarke.TextbookX.com/Help
Track: Check on the delivery status of your order
Returns: Need to return a book? Begin the return process here
Sell Page: Learn how to post you r textbooks for sale on the Marketplace
FAQ: Other questions? Visit our FAQ page or check out our Help Videos