Francis J. O'Connor Memorial Award
The Francis J. O'Connor Memorial Award was established by the late honorable Frank A. O'Connor of Dubuque, Iowa, in memory of his wife. In 1991, the University in cooperation with the O'Connor family renamed the award the Francis J. O'Connor Memorial Award to honor the late Francis J. O'Connor, son of Frank and Mary Agnes O'Connor, and longtime Clarke trustee.
It is awarded by vote of the Faculty and the Senior Class to the senior who is most outstanding in scholarship, cooperation, generosity in service, leadership, and loyalty to Clarke.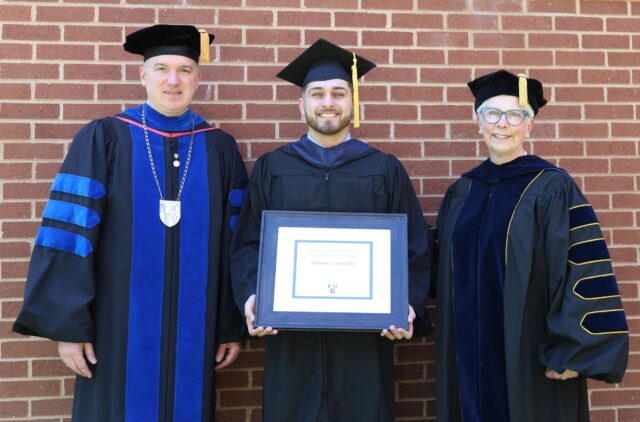 2022 Francis J. O'Connor Recipient
Anthony Gonzalez
Anthony Gonzalez was a leader in the classroom, on the field, and in his community. He majored in Biology, completing his capstone research on the expression of a protein within the eye, under hyperglycemic conditions. He was a role model for his classmates and friends, as well as his eight siblings at home in San Diego, California. Some of his activities included:  
Member of the Football and Lacrosse teams

 

Volunteered with Dance Marathon and Biology Club

 

Served as a Tuckpointer and Clarke Student Association board member

 
After graduation, Anthony intends to work in a lab for a year before enlisting in the Navy, followed by enrolling in medical school to become a plastic surgeon. 
Previous Recipients
Rashaud Colbert, 2021
Sydney Eustice, 2020
Caroline Herrig, 2019
Kyle Majerus, 2018
Natascha Myers, 2017
Allison Smith, 2016
Adam O'Dell, 2015
Brittany Gosse, 2014
Luke Flynn, 2013
Molly Ann Fitzgibbons, 2012
Alexander Kelsheimer, 2011
Colleen Dansart, 2010
*For a complete listing of recipient names you may contact Academic Affairs.