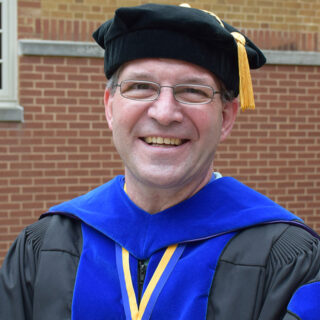 Tim Boffeli, Ph.D.
Associate Professor of Psychology,
Chair of Health, Wellness, & Behavioral Sciences
---
Educational Background
Ph.D. in Psychology, Specialization in Educational Psychology from Capella University, Minneapolis, MN: 2007
M.A. in Applied Psychology, Emphasis in Clinical and Counseling from Loras College, Dubuque, IA: 1986
B.A. in Psychology and Sociology from Loras College, Dubuque, IA: 1983
Teaching Philosophy
I firmly believe that Clarke University and Psychology are wonderful "boats" that carry students and me toward potentialities. When I am in the boat, I want to infect every traveler with the notion that within them lay greatness. That on this journey, the metamorphoses of greatness will inevitably unfold by a process of self-examination, self-enhancement and personal decision making. As all important journeys wear on, a solidification of the self based on taking more responsibility for living freely and embracing our Christian heritage of loving self while loving others will become more manifest. This is the fruition of the journey.
Life is a journey. The Clarke journey entails choices about living authentically and being engaged to transform that which needs changing. If you engage Clarke, then Clarke will engage you.
Tim Boffeli
Profile
Professional Background
Tim Boffeli started off his career at the Gannon Center for Community Mental Health. Prior to full time teaching, he was a Case Manager, Day Treatment Coordinator, Clinical Counselor and ultimately a Licensed Mental Health Counselor. Tim worked extensively with a wide range of individuals who experienced short term and persistent forms of mental illness. He typically worked with individuals who had specialty treatment needs.
Tim worked at the Gannon Center for 20 years. Tim still holds his therapist license. While working as a mental health counselor, Tim taught for five years at Northeast Iowa Community College before moving on to teach for ten years as adjunct faculty at Clarke. In fall 2003, he joined the university full time as an Assistant Professor and Chair of the Psychology Department. For fall 2010, Tim received tenure and was promoted to Associate Professor of Psychology.
Courses Taught
PSYC 111 Introductory Psychology
PSYC 221 Abnormal Psychology
PSYC 231 Behavior Modification
PSYC 330 Theories of Counseling and Psychotherapy
PSYC 381 Personality
Certifications and Memberships
Departmental Chairs
General Education Advisory
Academic Advising
Higher Learning Commission Steering
McElroy Fellowship
Member of Society for the Teaching of Psychology
Member of the Midwestern Psychological Association
Additional Information
Tim has received numerous awards and accolades in his mental health counseling and teaching careers. For example in 2015, Tim was the recipient of the Meneve Dunham Award for Excellence in Teaching. In 2014, Tim was bestowed Clarke's Admissions Impact Award for the energy he exudes in the student recruitment process. Early in his career, Tim was recognized in 1989 by the Alliance for the Mentally Ill (AMI) of Iowa as the "Most Outstanding Community Support Worker for the State of Iowa." In the first year AMI granted the award, Tim was honored.
Presentations

Personal Strategy from a Psychological Perspective, Young Professionals Dubuque (Chamber of Commerce). Spring 2016.

Psychological Analysis of So B. It: A Novel. Eleanor Roosevelt Middle School 7th Grade. Spring 2016

Cognitive-Behavioral Treatment of Mood Disorders. Loras College:  Diagnosis & Treatment Planning graduate course. Spring 2016

Overcoming Fear Avoidance Behaviors. Clarke University: Primary Care in Physical Therapy graduate. Fall 2015

Becoming More Than My Trauma. Clarke University: Faith & Holistic Development course. Fall 2015

Depression and Suicide Assessment plus Cognitive Behavioral Treatments Associated with PT Compliance and Noncompliance. Clarke University: PT Management 2 graduate course. Fall 2014

On Being a Damaged Catholic. Clarke University: Faith and Doubt course. Fall 2013

Understanding Persistent Mental Illness and Fundamental Intervention Techniques. Dept. of Correctional Services: Dubuque Correctional Facility. Fall 2012

Just Wait! – Overcoming  Procrastination. Clarke University Development & Educational Series: Your Best U. Spring 2012

Staving Off Compassion Fatigue. Illinois Association for Marriage and Family Therapy annual conference. Spring 2012