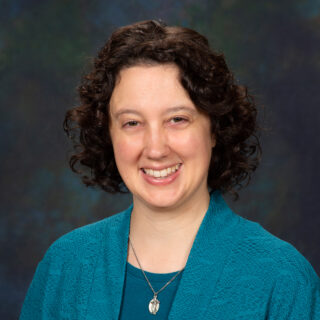 Susanna Cantu Gregory, Ph.D.
Assistant Professor of Religious Studies
---
Educational Background
Certificate in Fundamentals of Online Teaching, University of Wisconsin, Madison, Wisconsin
Ph.D. in Theology, University of Dayton, Dayton Ohio
Awarded with Honors
M.A. in Theology, Boston College, Chestnut Hill, Massachusetts  
B.A. in Liberal Studies (Philosophy & Religious Studies), St. Edward's University, Austin, Texas
Summa cum laude
I aim for students to sense their own memories, convictions, questions, and contexts are not only welcome but crucial sources for dialogue in a Religious Studies classroom.
Susanna Cantu Gregory
Profile
Assistant Professor of Religious Studies
Clarke University, Dubuque, Iowa
Courses:  RELS 100 Foundations of the Spiritual Life; RELS 204 Faith Communities; RELS 304 Faith Communities Intensive; RELS 205 Introduction to the New Testament (traditional undergraduate and hybrid Timesaver versions), RELS 208 Sacramental Experience, RELS 219 Faith and Holistic Development; CU101.11 Transitions
Visiting Assistant Professor of Religious Studies
Clarke University, Dubuque, Iowa
Courses:  RELS 100 Foundations of the Spiritual Life; RELS 204 Faith Communities; RELS 205 Introduction to the New Testament (traditional undergraduate and hybrid Timesaver versions), RELS 208 Sacramental Experience
Online Course Facilitator
Satellite Theological Education Program (STEP), University of Notre Dame
Courses:  Introduction to Theology; Doctrine of Salvation in Jesus Christ
Instructor
Religious Studies Department, University of Dayton, Dayton Ohio
Course: REL103 Introduction to Religious Studies – Catholic Option
Theology Teacher
Matignon Catholic High School, Cambridge, Massachusetts
Courses: Justice and Peace; Discipleship; Christology; Church
Publications

Paul Grogan and Kirsteen Kim, ed. The New Evangelization:  Faith, People, Context and Practice (Bloomsbury 2015) Horizons, Journal of The College Theology Society 43 1 (2015): 241-242.  Book Review.

Contesting Catholicity:  Theology for Other Baptists. Five Perspectives—Curtis Freeman.  Contesting Catholicity:  Theology for Other Baptists (Baylor University Press, 2014), Horizons, Journal of The College Theology Society 42 2 (2015):  431-435.  Essay for Panel.

"The Quietly Erupting Lay Associate Movement in Post-Conciliar Religious Life:  Two Iowa Communities Compared," God Has Begun a Great Work in Us, Annual Publication of the College Theology Society 60 (2014):  190-202.

Memberships

Association for Contemplative Mind in Higher Education
April 2018 – present

College Theology Society (CTS)
2006 – present