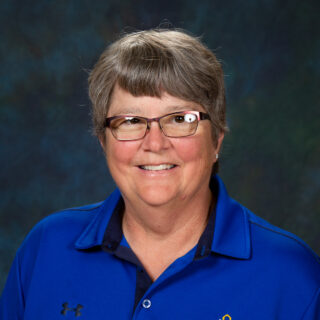 Laurie Hiatt
Assistant Professor of Physical Therapy
---
Educational Background
B.S. Physical Therapy Wichita State University, Wichita, KS  1986
PhD Physical Therapy, Nova Southeastern University, Ft. Lauderdale, FL 2020
Teaching Philosophy
My purpose is to develop and mold tomorrow's physical therapists into leaders and master clinicians.  I want to help the Clarke PT students provide quality care to patients across this great land.  We need leaders in physical therapy to fight for patient rights, provide evidence-based therapies, advocate for quality and affordable healthcare for all.  I have worked in physical therapy for 34 years and I want to give back to the profession that has given me so much.
Profile
My career in physical therapy has included work in a wide variety of settings that include acute hospital, out-patient, worker's compensation, nursing home, home health, acute rehabilitation unit, private practice, and owning two businesses.  My first business was  Temporary Physical Therapy Services where I privately contracted with numerous facilities in this area and the second business I currently own is called Performance Enhancement Partners.
My dissertation was titled "Does the Type of Dual-Cognitive Test Impact Gait Variability in Community Dwelling Adults Using the Quantitative Timed-Up and Go (QTUG)?" My plans are to publish my research in an APTA journal and I have submitted an application to present at the APTA Combined Sections Meeting (CMS) next spring.
Hobbies & Interests
I have developed a passion for history including researching my families genealogy. I have served as the Iowa Physical Therapy Association Historian for many years.  I enjoy bowling year round in leagues and tournaments.  I am an avid golfer and like to get out onto the links whenever I can.
Certifications & Memberships
I am a Board Certified Orthopedic Specialist since 2000. I have been a member of the American Physical Therapy Association since 1986 and belong to a number of sections in the association including Orthopedic, Geriatric and I recently joined the Education section.