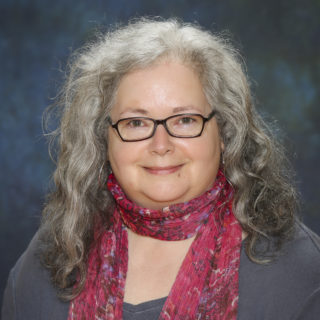 Evelyn Nadeau, Ph.D.
Professor of Spanish
---
Educational Background
Bachelor of Arts in Administrative and Legal Processes (Pre-law), Mills College, Oakland, California
Master of Arts in Spanish, San Francisco State University, San Francisco, California
Doctor of Philosophy, Spanish (Emphasis: Latin American Literature), University of California, Davis, California
Teaching Philosophy
The fundamental concept that guides my teaching is the empowerment of students, which translates to learning that is active and experiential, student-centered, set within a cultural context, and enjoyable. I also believe that what happens as part of the class should open us up to new perspectives and experiences even after the course ends.
I look forward to spending time with my Clarke family—students, staff, and other faculty—and I find that even though my role is to help facilitate the learning of my students, in reality, everyone else in our community of learners has something to teach me as well.
Evelyn Nadeau
Profile
Professional Background
I began teaching at the university level when I was a graduate student, and later taught at the Universidad Autónoma de Baja California in Ensenada, Mexico, and at Southern Oregon University in Ashland, Oregon, before coming to Clarke.
Research Interests
Contemporary Latin American Narrative
Latinx politics and culture
Latin American history, politics, and culture
Immigration
Courses Taught
Spanish Conversation, Composition, and Grammar
Seminar in Latin American Literature and Culture
Spanish Translation
Spanish in the U.S.: Language and Culture
Certifications and Memberships
Chair of the Language and Literature Department 2010-2016
Co-Coordinator of Study Abroad 2004-present
Member of the Academic Advising Committee 2008-present
Member of the Faculty Policy Committee 2012-2016
Chair of the International Education Committee 2004-present
Member of the Clarke University Education Advisory Committee 2011-present
First-year and Spanish major and minor advisor, 2003-present
Founding member of Dubuque Council of LULAC (League of United Latin American Citizens)
Member of the Racial Disparity Subcommittee of the City of Dubuque Human Rights Commission
 Member of Dubuque for Refugee Children
Member of the Culture of Non-Violence Coalition
Member, Dubuque Chapter of the NAACP
Delegate, Dubuque Area Congregations United
Member and current president of the Dubuque U.N. International Day of Peace Coordinating Committee
Volunteer at the Dubuque Multicultural Family Center
Publications

Nadeau, E. 2009. "Las islas nuevas de María Luisa Bombal: La revelación de la otredad reprimida en la narrativa neofantástica hispanoamericana" in Escritoras y compromiso. Literatura española e hispanoamericana de los siglos XX y XXI, Ángeles Encinar and Carmen Valcárcel, eds., Visor Libros, Biblioteca Filológica Hispana, Madrid, 2009.

Presentations

Nadeau, E. 2015. Mystics and Muses as the New Mestizas: Applying Anzaldúa's Border Theory to the Lives and Work of Santa Teresa de Ávila and Sor Juana Inés de la Cruz. Presented at the 2015 Asociación Internacional de Literatura y Cultura Femenina Hispánica (AILCFH) conference, Marquette University, Milwaukee, Wisconsin.