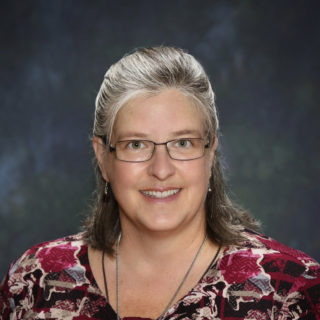 Karen Glover, Ph.D.
Professor Chemistry
---
Educational Background
Ph.D. in Medicinal Chemistry, The University of Michigan, Ann Arbor, MI. 1994
BA in Chemistry, Grinnell College, Grinnell, IA. 1988
Profile
Professional Background
I worked as an industrial post-doc in a pharmaceutical company after graduate school. During this time, I was involved in organic synthesis of cyclic peptides with potential use as anti-coagulants.  I was exposed to a wide variety of synthetic techniques as well as specialized purification and characterization techniques.  At the beginning of my teaching career, I worked as a Chemical Hygiene Officer (CHO).
During my undergraduate time, I participated in a summer research experience in the Netherlands.  My work resulted in a publication which described the X-ray crystal structure of an analog of cis-platin, a drug used for treatment of certain types of cancer.
Research Interests
Guided Inquiry teaching methods
Use of instrumentation in undergraduate research
Chiral reagents in synthesis
Sulfur containing compounds
Courses Taught
Organic Chemistry I and II, lecture and lab
Molecular Spectroscopy
Medicinal Chemistry
Certifications and Memberships
American Chemical Society (ACS)

ACS, Division of Chemical Education
ACS, Division of Chemical Health and Safety
ACS, IA-IL Local Section member

Midwestern Association of Chemistry Teachers in Liberal Arts Colleges (MACTLAC)
Laboratory Safety Institute (LSI)
Additional Information
Awarded funding by the Roy J. Carver Charitable Trust Foundation for purchase of a 90 MHz Anasazi NMR Spectrophotometer in July of 2014.
Recipient of the Meneve Dunham Excellence in Teaching Award, Spring 2012