Definitely Not "Normal," but Most Definitely Clarke: Living Mission and Values in Unusual Times
By Clarke News | October 13, 2020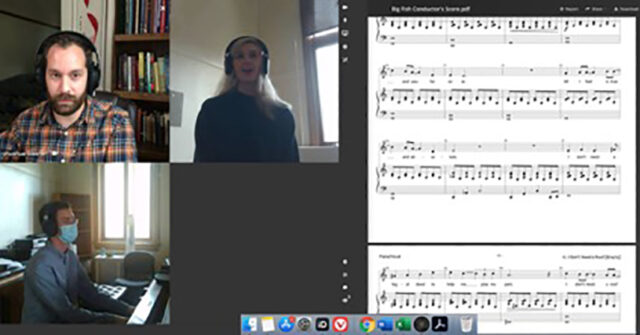 By Susan R. Burns, Ph.D., Vice President for Academic Affairs
Like so many others, I have lamented the many and different ways that life just does not seem "normal." There are many things that look and feel different at Clarke this fall semester – all for the health and safety of our community – and yet, in good Clarke fashion, we carry on armed with our mission and values to guide us. With thanks to Louise Kames '77, Professor of Art + Design and Clarke alumna I have a beautiful print in my office that displays a quote from Mary Frances Clarke, "Leave the Future to God: I have no fears as long as you are working unitedly."
As we planned for the fall semester, knowing that instruction and engagement needed to be different from "normal," we came together as One Clarke, One Community to work unitedly to live our core value of Charity – as a community seeking to welcome all, contributing to the well-being of others and the common good. Faculty and adjunct faculty members continue to offer high-quality and engaging courses this fall semester that inspire intellectual curiosity, cultural engagement, professional preparedness, and spiritual exploration. Courses this academic year may not appear "normal" as they include a wider variety of modes of instruction; however, they are most definitely Clarke in service to our core value of Education – as a community seeking wisdom, we help all to appreciate learning opportunities that enable persons to reach their full potential.
As Dr. Joshua Glasner, new Clarke University Assistant Professor of Music – Voice, shared on social media, "It feels amazing to make music like this again! I am so thankful to my colleagues, admin, and IT for their commitment to delivering the best possible educational experience to these students in these unusual times." With his post, he captured a not "normal" voice lesson where he (upper left) was at his computer in his office, Alana Walker Musical Theatre student taking voice lessons was across the hall in a practice room, and accompanist Anthony Capparelli, Instructor of Music and Collaborative Pianist was in his office ready to accompany. Definitely not "normal," but most definitely Clarke as the music played on with quality learning in high-tech fashion.
After George Floyd was killed on May 25, and as our country has continued to struggle with the difficult and necessary conversation and action in response to systemic racism and oppression, Clarke has continued to live our core value of Justice – as a community standing with others, we strive to create a society that recognizes the dignity, equality, and rights of all people and to respond faithfully to one another. With the generous support of Clarke Trustee and alumna, Jenifer Westphal '84, Clarke launched the Activism and Values Informed Education (AVIE) Clarke Compass Awards this fall semester. These awards provide students with the opportunity to apply activism and community engagement in addressing oppression and systemic racism to partially meet Compass outcome requirements for Communication, Professional Preparedness, Thinking, Global Awareness and Social Responsibility, Spirituality. Selected students will work closely with AVIE Compass Mentors (faculty, staff, and BVM Sisters) for their exploration of the Clarke Compass outcome for which they applied to learn more, and together as a group to develop plans for community action and engagement to put their learning into action for the betterment of our community. This award and expression of mission and values remind us that although the times we are living in are definitely not "normal," the opportunity and award that Jenifer Westphal has established is most definitely Clarke.
Finally, understanding that learning is lifelong and life-changing, Clarke has established the Institute for Professional Excellence, which houses our new CareerPLUS program. Recognizing that now, perhaps more than ever, adults are encountering new challenges and opportunities within their workplace or are looking to grow their knowledge and skills to pivot toward new career paths. To meet these needs, Clarke has created online, self-paced, flexible micro courses and a digital badge program that serves the adult learner and working professional, allowing them to apply learning directly to their life and career. During this time of disruption when companies and employers are unable to offer professional development in the "normal" ways, in service to our value of Freedom – as a community seeking to live authentic lives, we invite all to be open to God's love and to be true to their best selves, it is most definitely Clarke to offer timely, relevant, and affordable ways for learning to occur.
In closing, as we look to the future in these not "normal" times, like Mary Frances Clarke, I too would encourage you to have no fears knowing that Clarke University continues to work unitedly and in support of our mission and values.