Clarke to Host Virtual "For a Blessed Christmas" Performance December 5, 2020
By Clarke News | November 13, 2020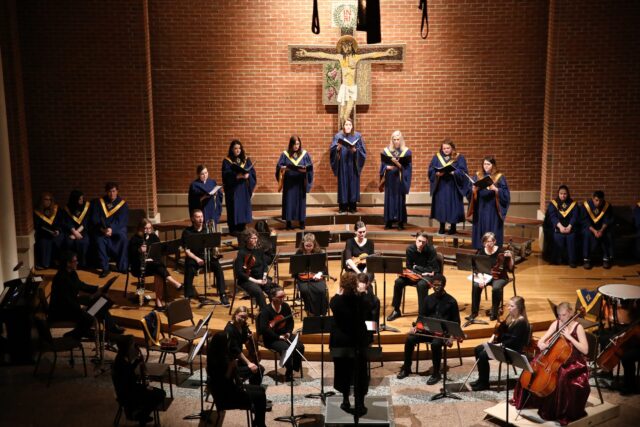 Clarke University's annual "For a Blessed Christmas" program is scheduled for Saturday, December 5, at 7 p.m. This virtual program was recorded in Clarke University's Sacred Heart Chapel throughout the fall semester.
"For a Blessed Christmas" is a touching portrayal of the Christmas story through music and biblical narrative. The Clarke University Music Department is pleased to offer this annual holiday program in a virtual format, thanks to the generous sponsorship of a Mediacom Arts and Culture Grant and the video editing services of Paul Kurutsides '08.
This year's program includes performances by the Clarke Wind Ensemble and Chamber Orchestra, under the direction of Dr. Rob Stull, Assistant Professor of Music and Director of Instrumental Activities; the Clarke Collegiate Singers under the direction of Dr. Amanda Huntleigh, Assistant Professor of Music and Director of Choral Activities; and a vocal solo by Dr. Joshua D. Glasner, Assistant Professor of Voice. Clarke University ensembles are accompanied by Anthony Capparelli, Instructor of Music and Collaborative Pianist.
The featured soloist this year is Clarke University Instructor of Guitar, Marcus DeJesus '14. We are honored to feature an alumnus and faculty member this season.
Marcus DeJesus is a guitarist originally from Brazil and professor of guitar at Clarke University and Loras College. In addition, Marcus is the music director at Chavez Elementary School in Madison, WI. In the spring of 2016, he finished a master's degree in guitar performance from Southern Illinois University (Carbondale, Illinois) and in the spring of 2014, a Bachelor of Arts in music performance from Clarke University. As a performer, DeJesus has collaborated with the Dubuque Symphony Orchestra, Southern Illinois Symphony, Larry Busch Big Band, The Mistletones, Handphibians Samba, Hunter Fuerte Vintage Jazz Orchestra, and many other ensembles. In addition, he regularly tours around Brazil as a guitar performer and educator. In the fall of 2019 DeJesus released his first solo guitar album called "Retratos," which combines a variety of styles: from Bach to Bachianinha; from Choro to Bossa Nova. In May of 2018, his ensemble the "Blu Flame Duo," released the album "Just Jazz" in partnership with another Clarke alumnus, Brian Eiffes. The work includes original compositions by Eiffes, jazz standards of yesteryear, and some modern originals reminiscent of the styles of the crooner era.
"It has been very rewarding making music again, collaborating across many departments during production, and revamping this time-honored Clarke music tradition to fit the current climate. I am grateful to Mediacom for supporting this vision and sponsoring our music-making, particularly during such a challenging time for live music," said Artistic Director, Dr. Amanda Huntleigh.
"For a Blessed Christmas" musical selections will include works by Steven Bryant, Giovanni Gabrieli, Alf Houkom, Franscico Nuñez, Astor Piazzola, Francisco Tarrego, and Antonio Vivaldi, as well as familiar Christmas carols.
This program is available FREE on or after Dec. 5 at 7 p.m. at www.clarke.edu/forablessedchristmas.